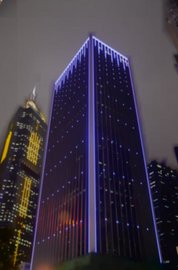 Date Announced: 28 Nov 2011
A revolutionary new addition has been made to the illumination Physics BAR PRO range of linear direct view LED products.
This product was developed and implemented for the façade of the Landmark China Resources Building in Hong Kong.
The unique rectangular shape of illumination Physics Rectilinear BAR PRO has been developed to suit applications where the physical appearance of the LED BAR must conform to a more planar appearance.
The semi-square profile suits certain architectural applications better than a round profile LED BAR.
The unique Linear End Cap design means that there is no change in profile as one BAR PRO Rectilinear is butted up to the next. This is because the bonding surface of the end cap is inside the profile of the BAR PRO Rectilinear and the transition from one section of BAR PRO Rectilinear to the next is perfectly smooth.
All of the illumination and control properties of BAR PRO Rectilinear are the same as illumination Physics standard profile BAR PRO. BAR PRO Rectilinear is available in either DMX version or Graphic version for larger applications.
For further information on BAR PRO Rectilinear go to www.illuminationphysics.com and download the data sheets.
Contact
Peter Kemp Managing Director Illumination Physics
E-mail:peter@illuminationphysics.com
Web Site:www.illuminationphysics.com