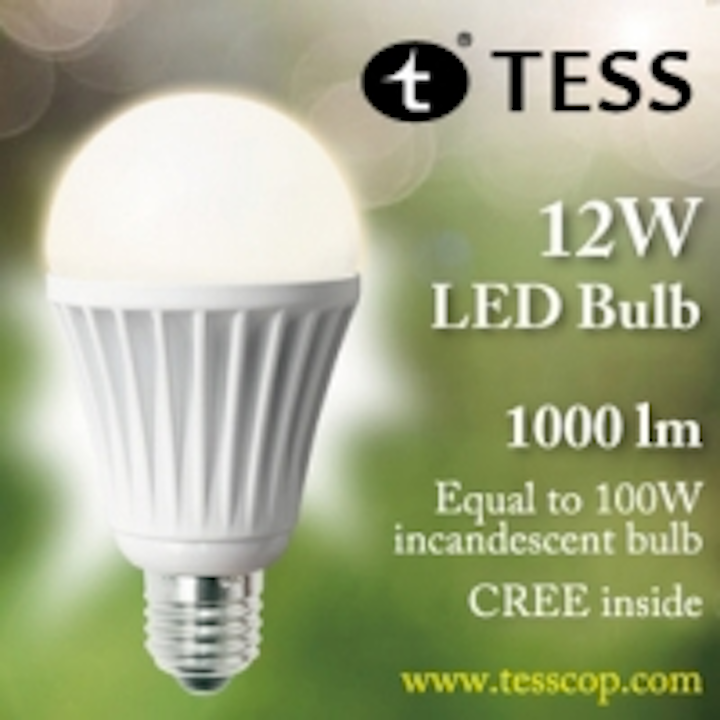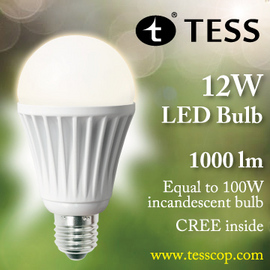 Date Announced: 09 Nov 2011
TESS (Top Energy Saving System Corp.), a leading LED lighting developer and manufacturer in Taiwan; TESS announces 12W 1000 lumen LED bulb, it gets the certification included UL、FCC、CE, and launches in market at Oct, 2011.
TESS 12W 1000 lm LED bulb is equivalent to about 70 W incandescent bulb by following the LM79 ,but in the lighting fixture, it is close to 100W incandescent bulb with minimum life-span of 10,000 hours, which is designed for residential use, provides cool white and warm white, especially fit the large and high-ceilinged space like living room.
LED bulb is the best choice for energy saving, compare with 100W incandescent bulb and 23W compact fluorescent lamp, 12W/1,000lm LED bulb will reduced abut 90% and 50% energy consumption.
It is about 500~1000 lumen for the residential use, TESS LED bulbs series provide 7W、9W、12W bulbs,with 500lm、700lm、1000lm for cool white. It is also available for warm white. The most important is TESS provides a more affordable retail price for 12W/1,000lm LED bulb than the other 1000lm type LED bulb to lower the burden of bulb replacement.
Product Specifications:
- Product Name: TESS 12W high efficiency LED bulb
- Product No.: T-6C006M
- Power Consumption: 12W ± 10%
- Lumen Output (lm): 1000lm ± 10%
- Luminous Efficiency: 83 lm/W
- Color Temperature: 5,000°K±10%
- Lighting: Cool white
- Lamp Base: E26/E27/B22d
- Input Voltage: AC110-120V(for E26/E27)/AC220-240V(for E27/B22d)
- Lifetime: >10,000hrs
- CRI: 75(Typical)
- Material: Aluminum/PC
- Dimensions: 60mm(D) × 117mm(H)
- Weigh: approx. 170g
- Regulation: RoHS / UL, FCC, CE
*Figures base on the test result of TESS lighting laboratory
*Specifications are subject to change without notice. All rights reserved.
TESS is looking for channel partners to bring the outstanding products into lighting market. If you are interested in building a thriving business with TESS, please e-mail to us.
About TESS
TESS founded in Oct 2007 which is a professional LED lighting and Solar System product manufacturer and provider. The main products of TESS are LED Bulbs, LED Down Lights, LED Street Lights and Solar Systems. Besides energy saving, we know there are many people living in remote areas who do not have decent electricity systems and facilities; TESS combines LED Lighting and Solar System which could help these people get lighting they need. We only have one earth; TESS will continue to do best to improve and provide better and better Solar and LED Lighting solution because we believe Solar-LED lighting will bring us a beautiful and happy life.
Contact
3F, No.115, Wugong 3rd Rd Wugu Dist., New Taipei City 248 Taiwan Tel: +886-2-22997688 ext. 311 Fax: +886-2-22997568
E-mail:inquiry@tesscop.com
Web Site:www.tesscop.com