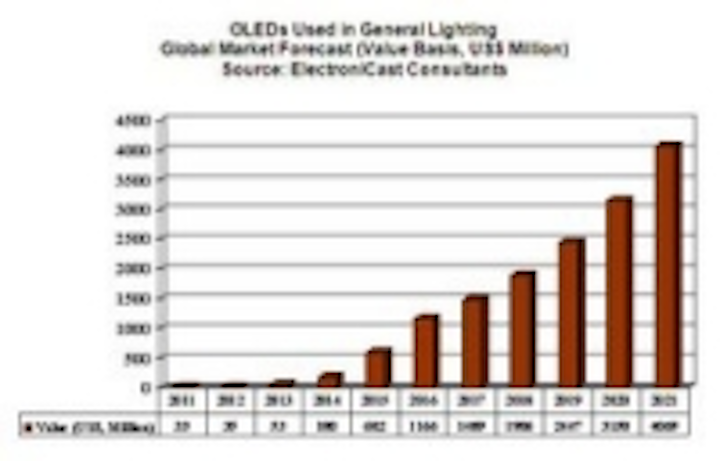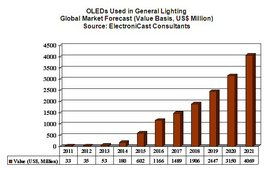 Date Announced: 24 Nov 2011
EelctroniCast OLED General Lighting Market Forecast (2011-2021)
According to ElectroniCast, the consumption value of OLEDs in General Lighting is forecast to reach nearly $1.17 billion in the year 2016 and an impressive $4.07 billion in 2021.
Upper Lake, CA (USA)/ Tokyo (Japan) – November 24, 2011 -- ElectroniCast Consultants, a leading market & technology forecast consultancy, today announced their market forecast of the worldwide consumption of organic light emitting diodes (OLEDs) in General Lighting applications.
ElectroniCast estimates that in 2011, the worldwide consumption value of General Lighting OLEDs will reach $33.46 million; consumption value is forecast to increase at an average annual growth rate of 103.4 percent to nearly $1.17 billion in 2016. From 2016-2021, the total consumption value of General Lighting OLEDs is forecast an increase 28.4 percent per year, reaching nearly $4.07 billion in the year 2021.
The vast majority of the consumption of OLEDs in 2011 is in R&D, product prototype and product samples (kits), based on a relatively high average price. As the year 2012 rolls around, the average selling prices (ASPs) are forecast to decrease substantially as the devices become more readily available to the open market in a competitive environment. Since the ASPs are forecast for such a steep decline, some of the overall consumption values for 2012 are forecast to be nearly flat compared to 2011. Generally, the consumption value is forecast to increase with strongly rising quantity growth partially offset by declining average prices.
"There is enough overall OLED interest and activity in 2011 by substantial leading lighting competitors (serious efforts) with existing capable manufacturing capabilities, working with evolving technology, to push for "mass-production". Also, industry players have been very active in establishing the required strategic supplier and IP agreements, as well as progressing in sales/distribution channel (planning) strategy," said Stephen Montgomery, president at ElectroniCast Consultants.
Therefore, according to ElectroniCast, the stage is set for a "Build-it and They Will Come" marketing strategy. The question is, how many customers will come and when. At the same time, other (competing) lighting solutions already work, have substantial customer base and established sales/distribution channels, occupying store footprint; therefore, OLED lighting will need to find unique style/designs to provide a common-sense approach to providing lighting solutions that the other technologies do not currently provide.
This 383-page market forecast report is available immediately from ElectroniCast Consultants (fee $4,200). For detailed information on this or other services provided by ElectroniCast, please contact
Hans van der Tang - hans@electronicastconsultants.com - Sales & Marketing APAC
Fax: +81-3-4496-6163 / Cell Phone: (+81) 070-6510-6929
ElectroniCast Consultants specializes in forecasting trends in technology forecasting, markets and applications forecasting, strategic planning and consulting. ElectroniCast Consultants, as a technology-based independent forecasting firm, serves industrial companies, trade associations, government agencies, communication and data network companies and the financial community. Reduction of the risk of major investment decisions is the main benefit provided. ElectroniCast Consultants'goal is to understand the challenges and opportunities facing clients and to provide timely, accurate information for strategic planning.
Contact
Hans van der Tang Director Sales & Marketing APAC ElectroniCast Consultants Tokyo Japan Fax: +81-3-4496-6163 Cell Phone: (+81) 070-6510-6929
E-mail:hans@electronicastconsultants.com
Web Site:www.electronicastconsultants.com