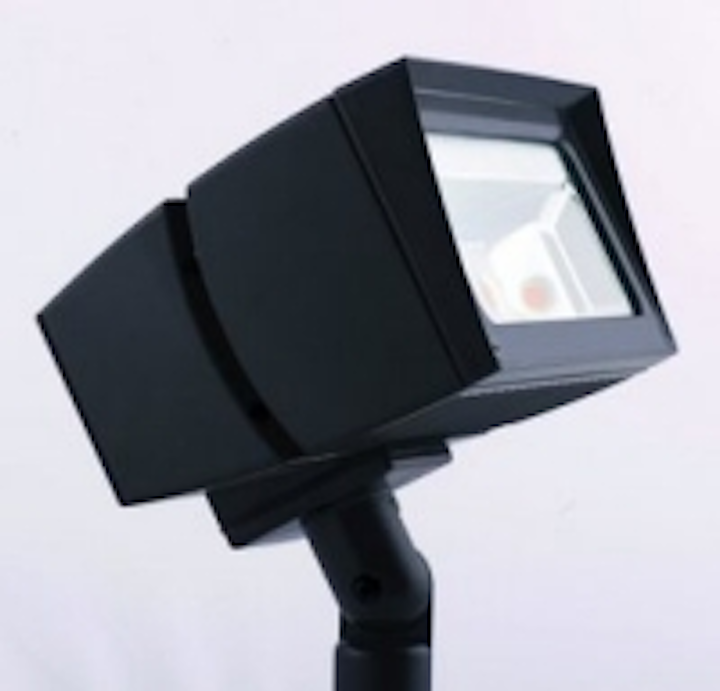 Date Announced: 17 Nov 2011
Northvale, New Jersey -- RAB Lighting, the leading manufacturer of affordable LED lighting, has expanded its popular family of LED Flood lights with the addition of its new "LFLOOD39," a 39 Watt LED replacement for 150 Watt metal halide floodlights.
Durable and high-performing, RAB's new LFLOOD39 drives over 75% energy savings relative to metal halide counterparts while delivering an unprecedented combination of light quality, long life, and affordability to a broad range of outdoor commercial LED lighting applications.
Ideal for building façade lighting as well as signage, landscaping, security lighting, and other outdoor commercial applications, RAB's LFLOOD39 delivers nearly 3,000 lumens of highly uniform light and exceeds Energy Star and Design Light Consortium requirements for minimum efficiency performance. The LFLOOD39 incorporates RAB's breakthrough, patent-pending heatsinking technology, which leverages the power of thermodynamic convection to drive air through the center of the fixture and enable quick and efficient cooling. This unique and novel solution additionally allows for dramatically smaller heatsinks, reducing material usage while driving long LED lifespans and achieving attractively short payback periods.
"Joining the existing 10, 13, and 18 Watt models in our growing LFLOOD family, the LFLOOD39 offers professional lighting users yet another opportunity to replace their outdated flood lights and enjoy the high-efficiency, long life, and low maintenance benefits of LED technology," says RAB Lighting CEO Ross Barna. "We're excited to deliver a continuous stream of LED floodlight innovations to the marketplace and to offer commercial, industrial, and residential building owners a high-quality, environmentally-friendly lighting solution that significantly reduces their energy consumption and operating costs."
Designed with a highly-durable swivel arm and available in three color temperatures – cool (5000K), neutral (4000K), and warm (2800K) -- the LFLOOD39 is UL-listed for wet locations and has a minimum starting temperature of -40°C to ensure reliable operation in colder climates or inclement weather situations. All RAB LED products are tested to IESNA LM-79 and LM-80 standards by third party provider NVLAP Accredited Labs.
The LFLOOD39 is offered with RAB's comprehensive, whole-system 5-year warranty and represents a low-cost, high-performing solution for the market's broad range of commercial outdoor floodlighting applications.
About RAB Lighting
Founded in 1946 and located in Northvale, New Jersey, RAB Lighting is a leading manufacturer of Sustainable Outdoor Lighting Fixtures using LED, HID, CFL and Motion Sensing technology. RAB's extensive portfolio of professional grade products are sold through a broad network of electrical distributors and are all designed for ease of installation, durability, and high quality standards. For more information, call (888) RAB-1000 or visit www.rabweb.com.
Contact
Bob Meade RAB Sales Support Manager (888) RAB-1000
E-mail:bob@rabweb.com
Web Site:www.rabweb.com