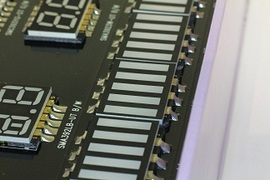 Date Announced: 11 Nov 2011
American Opto Plus LED Corp., a USA based Supplier LED manufacturer Introduces industry first SMD Bar graph LED Display.
Available in ultrathin thickness of 1mm or more, Bar Graph displays can be made in Surface Mount format to allow pick and place machine for automated manufacturing procedures.
The Custom Bar Graph Display length is available from 5 to 20 or more segments. Full Color selection rang from White, Blue, Green, Red, Yellow, Amber and Color-On-Demand. Patented design ultra-thin eliminates segment hot spot and offers superior consistencies for premium appearances.
Mass production low cost suitable for competitive designs on any application from Automotive, Home Appliances, panel Display, signage and more.
Additional production information at: http://aopled.com/index.php?cPath=27_185
About American Opto Plus LED Corp.
American Opto Plus LED Corp. is a manufacturer of LED components, USA office was established in 1995 and factory in 1973 in Taipei, Taiwan. The company is rapidly growing to becoming one of the leading supplier in the industry. AOP produces a wide range of products including High Power LEDs, SMD LEDs, Lamps, and displays. Focus market consist of Automotive, Home Appliance, Signage, medical and lighting markets.
Please visit us at www.aopled.com
Contact
American Opto Plus LED Corp. 1206 E. Lexington Ave. Pomona, CA 91766 Tel:877-533-7272 or 909-465-0080 Fax:909-465-0130
E-mail:eric@aopled.com
Web Site:www.aopled.com