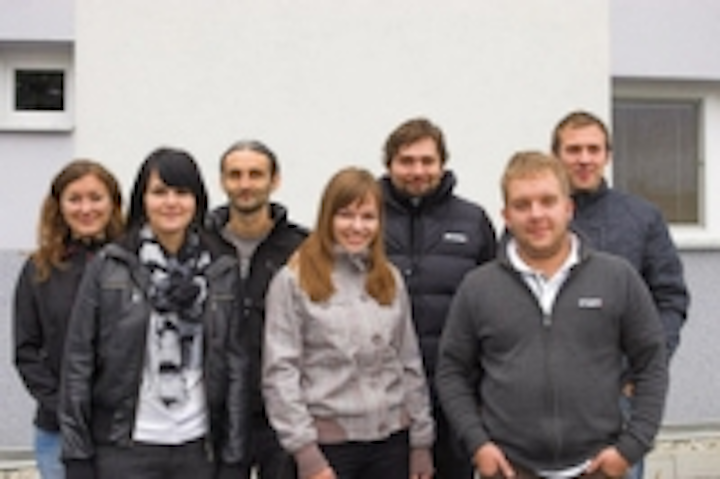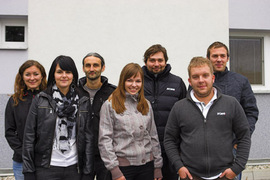 Date Announced: 21 Nov 2011
Seven fabulous new faces – making a magical lucky number - have joined the Robe lighting team at their Valašské Meziříčí HQ in the Czech Republic, reflecting a steady growth period over the last 12 months for the leading moving light manufacturer.
Graphic designer Václav Vilímek joins Robe's very proactive marketing team led by Jiri Baros.
As an experienced and innovative designer, he will be focused on all the company's graphic requirements plus ongoing development of the look and style of Robe's branding and their info-and-action packed website : www.robe.cz
His previous experience includes working for various companies in different sectors and also freelancing. Vilímek has also been active in the organisation of local art and design events, exhibitions and festivals, including music festivals. Says Jiri Baros, "We are delighted to have Václav onboard. He's already a valued core member of our flexible and fast-moving marketing department, and will be instrumental in advancing Robe's future marketing and communication strategies".
Jaroslav Mičkal (Jarda) will also be working alongside the marketing team – as the 'webmaster' and overseeing all technical aspects of www.robe.cz - the company's acclaimed internet portal.
Mičkal studied IT and computer graphics in the faculty of Information Technology at VUT Brno (Brno University of Technology). He brings fresh ideas and new perspectives to this important department, where he will be very busy administering and developing both the Robe lighting and Anolis websites, which are full of news, features, information, technicals, facts and fun. He will also be co-ordinating all Robe's electronic communications, micro sites, including newsletters, E-blasts and internet campaigns.
Jiri Baros comments, "Jarda fits our team perfectly - he is very hard working, dedicated to the job and has a great personality".
Daniela Šimčíkova joins the sales department as sales assistant, bringing a wealth of international work experience from time spent in Ireland, Austria, Germany and other countries. She speaks excellent English and German and has a cosmopolitan, positive and broad minded outlook on everything.
Šimčíkova graduated from the Business and Financial faculty at Brno University of Technology and also studied abroad during her time there. A lover of literature, travel and music, Šimčíkova is now co-ordinating the sales requirements for a selection of key international distributors.
Ondřej Hegar joins Robe's renowned technical support team. He's recently graduated from the famous Škoda Auto University in Mladá Boleslav where he studied Economics and Management/Corporate Finance Management in the Global Environment. He loves sports and brings lots of energy and vitality to Robe as well. His work and study experience is also international, and includes stints at Bentley Motors Ltd in the UK and at Škoda Auto a.s. in the Czech Republic.
A great communicator and fluent English speaker, as the latest addition to Robe's super knowledgable and efficient technical department, he is quickly learning about the company, its products, ideas and future goals.
Jan Brada also joins the technical support department, which is expanding in line with the company's general business trajectory. To ensure that Robe's tech support - reckoned to be among the best in the world - continues its first class standards, it is vital to get the right people onboard.
Brada's work background is with electro-technical production companies, and so he has a great capacity for technical detail and solutions. He likes outdoor activities and is also a gregarious, sociable person who is simultaneously calm and collected and a positive thinker - all ideal attributes for a successful career with tech support!
Tereza Halastova joins the sales team after graduating earlier this year from Brno University of Technology, Faculty of Business and Management, and joins the Robe sales team based at Valašské Meziříčí.
Her many positive personality traits include enthusiasm, reliability and patience. As a proactive team player. Halastova will fit perfectly into Robe's model of encouraging staff to work responsibly without supervision, empowering them to become effective communicators and build positive relationships - all essentials for a successful sales department.
Halastova became familiar with Robe's sales department whilst studying, participating in a series of working practice seminars with Renata Stodulkova and the sales team. She enjoyed the experience so much, that her goal became one of joining the "Robe family" after finishing her education!" I perceive Robe as a very successful company with a unique atmosphere," she comments.
Her hobbies include cycling, skiing, hiking and creating original jewellery.
Eva Jurenkova further strengthens the sales department, and also studied at Brno University of Technology's Faculty of Business and Management, completing her master's degree in Corporate Finance and Business this summer.
Her bubbly personality and skills of persuasion will be a great asset to Robe as good communication has always been a key in the company's success.
Says Jurenkova, "Working for Robe is a huge opportunity for me. I am very keen to learn about the professional lighting industry and the technology and concepts involved, as well as to improve my language skills and establish a good rapport with our international partners. Also, it's a great chance to work with some fabulous and very dynamic people".
Photo caption – from the left : Daniela Simcikova, Eva Jurenkova, Jaroslav Mickal, Tereza Halastova, Vaclav Vilimek, Jan Brada, Ondrej Hegar.
Contact
Louise Stickland +44 (0)1865 202679 +44 (0)7831 329888 Robe Lighting + 420 571 751 510
E-mail:louise@loosplat.com
Web Site:www.robe.cz