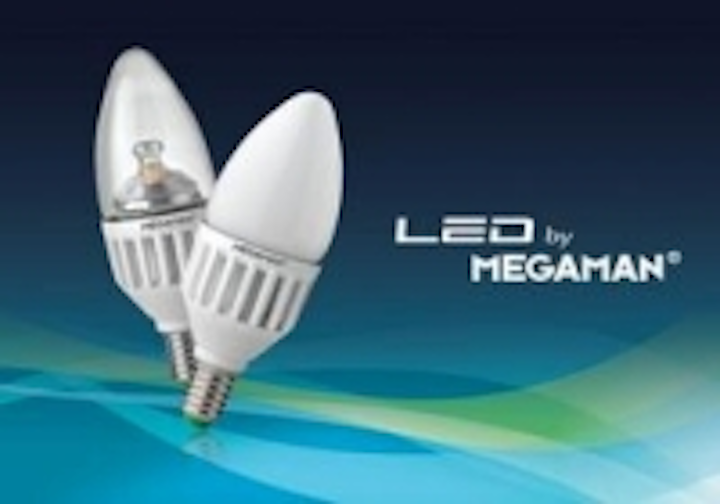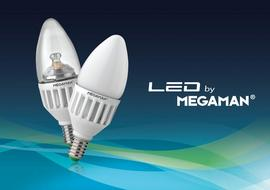 Date Announced: 01 Nov 2011
Hong Kong, 25 October 2011) Participating in Asia's largest lighting exhibition for the ninth consecutive year, MEGAMAN® leads the way with advances in technology and functionality in LED lighting, and it has enlarged its LED range of sustainable and energy conscious lighting products. With complete technical functionality and sophistication, MEGAMAN® will present visitors with its latest range of innovative LED lighting products that offer ultimate lighting solutions to both professionals and consumers.
To enhance its wide range of truly green LED lighting solutions for homes and commercial enterprises, this year MEGAMAN® launches a series of new products to augment the LED Classic, LED Candle and LED MR16 series, which will enable designers and architects to create different lighting moods for home and buildings.
MEGAMAN® LED Classic
Delivers incredible lighting performance with glamorous classic shape
Thanks to the unique patented heat sink design, the MEGAMAN® LED Classic minimises heat sink material for a glamorous and sleek classic shape with a compact housing, a true 60W incandescent equivalent that delivers high lumen output of 810lm in 11W with 330-degree even light distribution, making it ideal for general lighting and decorative lighting applications. Its excellent linear dimming function provides unhindered discreet lighting design and control to suit every mood.
MEGAMAN® LED Candle
Designed to replace incandescent candles, the MEGAMAN® LED Candle has a glamorous and majestic outlook with incredible lighting performance that greatly reduces electricity and maintenance costs. It resembles a point light source, where the light-emitting position is similar to that of the filament in an incandescent candle. The incandescent-like sparkling light effects add a special glittery glow to the crystals of chandeliers, bringing out their aesthetic appeal and making the MEGAMAN® LED Candle perfect for decorating and illuminating a wide variety of commercial establishments as well as for enhancing social occasions at home. The MEGAMAN® LED Candle offers smooth dimming of a brightness range from 10% to 100% via a normal dimmer switch. With a press of the button, the lighting is adjusted to provide the perfect illumination for any activity.
MEGAMAN® LED MR16 Reflector
An eco-lighting solution with the same compact design as Halogen MR16
Another centre of attraction is the MEGAMAN® LED MR16 reflector lamps, which are driven by halogen transformers, offering excellent lighting performance, heat dissipation and lumen maintenance thanks to the company's patented Thermal Conductive Highway™ (TCH) technology. Designed for use in standard MR16 applications, the 8W MEGAMAN® LED MR16 Reflector is compact, with a GU5.3-compatible lamp cap and beam angles of 24 degrees and 36 degrees for high quality accent lighting, and delivering supreme light output of up to 1700cd. The MEGAMAN® LED MR16 Reflector is an ideal alternative to the 50W halogen.
Different from the common lens-style LED lamps in the market, the MEGAMAN® LED MR16 has made use of a reflector design that provides a smarter appearance and better beam angle control.
The Hong Kong International Lighting Fair 2011 will be held from 27 to 30 October 2011 at the Hong Kong Convention and Exhibition Centre. To find the latest eco-lighting solutions, please visit MEGAMAN® at Hall 1, Booth No. 1D – B02.
About MEGAMAN®
MEGAMAN® is a global brand in high-performance, energy-efficient lighting and an innovative leader in LED and CFL lamp design, with technology targeting the best eco-lighting solutions. MEGAMAN® products are widely distributed throughout the world, including Europe, Asia Pacific, Middle East, Africa and South America, covering more than 90 countries. By setting environmental management as one of the company's highest priorities, MEGAMAN® is focusing on eco-friendly environmental processes from initial design, to manufacturing, research and development, and the disposal and recycling of its products.
For more information about MEGAMAN®, please visit the website at
www.megaman.cc.
Contact
Blanca Ho Neonlite Electronic & Lighting (HK) Ltd. – MEGAMAN® Tel: (852) 2378 0074 Fax: (852) 2758 5957
E-mail:blanca@neonlite.com.hk