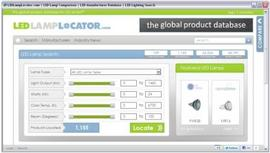 Date Announced: 03 Nov 2011
New York, NY - As part of the ongoing expansion of the new LED Lamp Locator -- a bold new web-based tool designed to enhance the ease with which professional lighting users can search, evaluate, compare, and specify the market's broad range of LED replacement lamps -- Lighting Internet Technology Enterprises (LITE) proudly announces that the LED lamp Locator has recently been enhanced to include the identification of LED replacement lamps for linear fluorescent technology. The newly-added "Linear" category now joins the tool's three other main categories – Decorative, Directional, and Omnidirectional – in comprehending the broad array of LED lamps offered by the market's range of global manufacturers and in helping to simplify the identification and selection of LED lamps in today's fast-paced and rapidly-expanding marketplace.
In addition to providing exposure to those manufacturer registrants who offer LED replacements for the range of linear fluorescent products, the addition of linear LED completes the "LED Lamp" section of the portal and provides specifiers, distributors, and other lighting professionals with a more diverse and comprehensive database of current LED lamp products for their industry use. Future, value-added enhancements to the LED Lamp Locator tool in the coming weeks will include the incorporation of other LED product types such as modules and fixtures.
Since LEDLampLocator.com was launched in late September 2011, visitors to the portal have already conducted more than 21,000 product searches and have viewed LED products from participating manufacturers over 40,000 times. With LEDLampLocator.com now out of its soft launch phase, LED lamp manufacturers are encouraged to complete their official registration on the site to best position themselves for sales and marketing success in 2012.
"With the manufacturing community's constant introduction of new LED lamp products, the industry needs one place to rely on for up-to-the minute specification information," says lighting/electrical distributor, energy services provider, and LED Lamp Locator user Leon Mowadia, Jr., National Accounts Manager for the New Jersey arm of Texas-based Facility Solutions Group (FSG). "The web-based LED Lamp Locator is a user-friendly tool which delivers real-time information about the broad range of LED lamp products on the market. By helping distributors, specifiers, and designers to quickly and easily compare LED lamp products side by side across one standardized format," Mowadia concludes, "the LED Lamp Locator will greatly assist industry professionals in evaluating their options and keeping up-to-date with the newest lamp characteristics in the ever-changing LED lamp arena."
Lauded by industry channel members as a "tremendous new tool" for navigating the often-confusing landscape of LED lamp products, www.LEDLampLocator.com represents a powerful new portal that is quickly becoming the lighting industry's go-to resource for LED lamp product information and related material.
For More Information:
To enjoy the benefits of the LED Lamp Locator tool as a user, please visit www.ledlamplocator.com. For more information on the LED Lamp Locator or to register on the site as a manufacturer, contact sales@LEDLampLocator.com.
Contact
244 5th Avenue, Suite 2408 New York, NY 10001
E-mail:support@LEDLampLocator.com
Web Site:www.LEDLampLocator.com