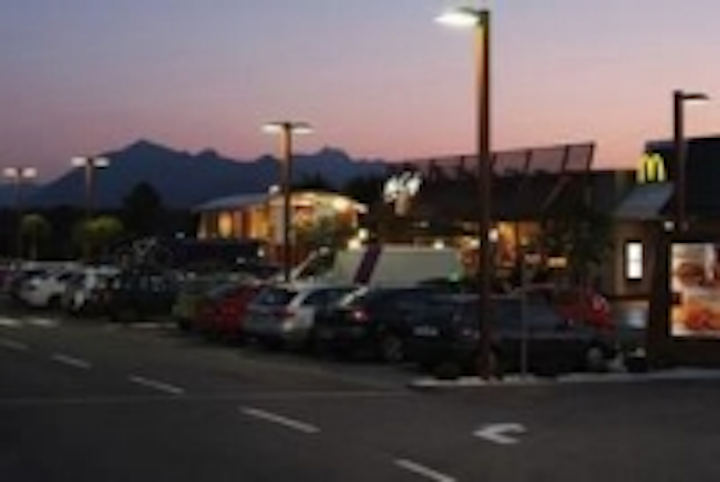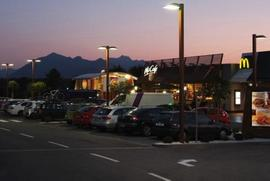 Date Announced: 17 Nov 2011
OSRAM is fitting outdoor facilities of the McDonald's restaurant chain in Germany with modern and energy-efficient LED lighting. So far, the parking lots of a total of 25 new restaurants have been provided with the LED floodlights from OSRAM's subsidiary Siteco. "We are effectively accentuating outdoor facilities with our LED solutions and modern lighting systems. We are delighted that our concept also won McDonald's over," said Klaus-Günter Vennemann, CEO of the OSRAM General Lighting Business Unit.
Across Germany, over 300 LED floodlights have been installed already on 25 McDonald's parking lots and traffic routes. The lighting concept is based on a holistic approach which combines architectural, safety-related and atmospheric aspects. Thanks to their service life of 50,000 hours, the durable LED floodlights also ensure economic efficiency. "Lighting is an important lever for companies with a strong commitment to sustainability," explained Vennemann.
Each of the LED floodlights which are minimizing both glare and scattered light on the parking lots of McDonald's contains a powerful LED module with 84 OSRAM Golden Dragon Oval Plus LEDs. These high-power white LEDs are not only remarkable for their energy-efficiency, but also boast a long service life and a natural color impression. What's more, LED light attracts fewer insects, greatly reducing the cleaning and maintenance intensity. At McDonald's, masts with special square profiles are fitted with either one or two LED floodlights, as required.
Constructed in 2011, the restaurant located at the Grabenstätt exit of the A 8 motorway is a representative example. Twenty modified LED midi-floodlights illuminate the outdoor area, which extends over some 4,000 square meter.
ABOUT OSRAM
OSRAM AG (Munich, Germany) is a wholly-owned subsidiary of Siemens AG and one of the two leading light manufacturers in the world. In financial 2010 (ended September 30), it achieved revenue of 4.7 billion Euros. OSRAM is a high-tech company in the lighting sector and 70 percent of its revenue comes from energy efficient products. The company, which is very much internationally oriented, has around 40,000 employees worldwide, supplying customers in 150 countries from its 42 production sites in 16 countries (September 30, 2010). Additional information can be found in the internet at www.osram.com
Contact
Christian Bölling Tel: +49-89-6213-2597 Fax: +49-89-6213-3457
E-mail:c.boelling@osram.com
Web Site:www.osram.com