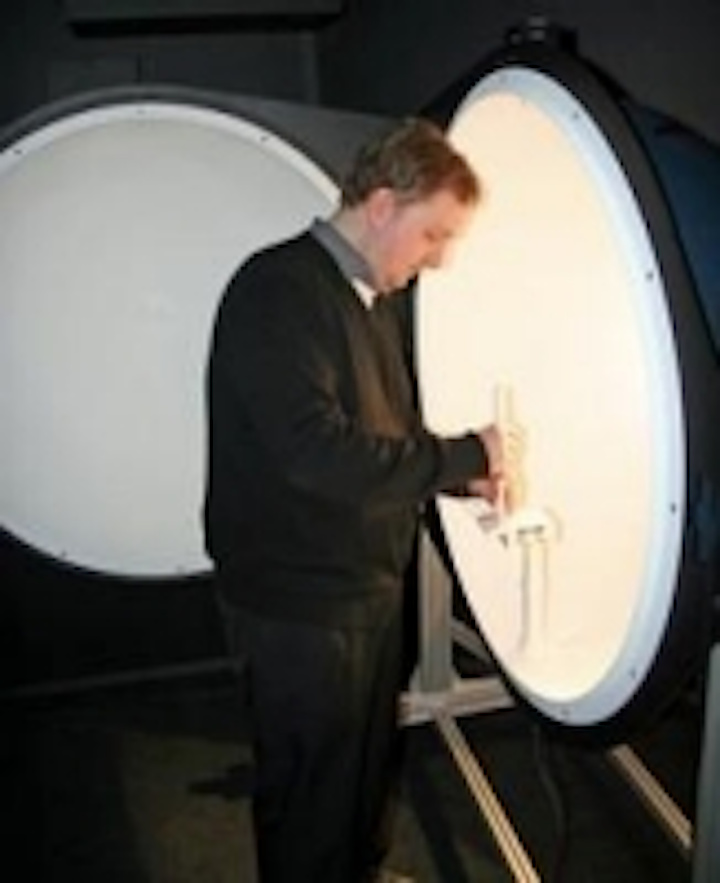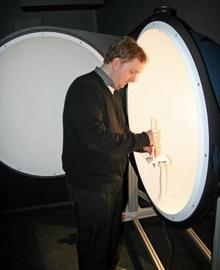 Date Announced: 11 Nov 2011
UK firm Photometric & Optical Testing Services today announced that it has commenced operations from its newly formed laboratory based at the Cotswold Business Centre in Upper Rissington, Gloucestershire. Photometric Testing serves the lighting industry with specialist optical test and measurement services for LEDs, lamps and luminaires.
The majority of small and medium businesses in the lighting industry rely upon the services of independent test laboratories for photometric testing. The problem to date has been that it can take weeks if not months for the tests to be performed. In addition, the testing has often been carried out using traditional photometers which are known to suffer from colour correction errors and which give misleading readings with LED sources. Photometric Testing aims to provide a solution to those who need a responsive service and who value accurate results. This way, the company will help its clients bring their products to market more quickly and impart a high level of confidence in the specification of the products it tests.
Photometric Testing maintains a state-of-the-art, temperature-controlled dark room facility and the latest photometric equipment which is designed to give accurate, repeatable measurements with all types of light source, including LEDs. For measuring luminous flux, chromaticity, colour temperature and colour rendering the company employs a 1m diameter integrating sphere with high resolution spectroradiometer detector. Compared with a geodesic or cubic integrating chamber, a full integrating sphere provides uniform collection of light from the device under test regardless of the beam distribution. At the same time, the spectroradiometer ensures accurate flux and colour measurements regardless of the spectral distribution of the light source. For measuring beam distributions and the variation of luminous intensity with angle, Photometric Testing employs an imaging goniophotometer. This provides for measurements of candelas versus angle and the generation of standard photometric data files in the industry-standard IES and LDT (EULUMDAT) formats.
All of the company's equipment is calibrated using transfer standards which are traceable to governmental measurement institutes (NIST or NPL), the latter being UKAS accredited. Photometric Testing recognises that current UK lighting test standards (for example BS EN 13032) were published before the widespread adoption of sold state lighting and so do not take account of the special procedures necessary to ensure accurate readings with LED sources. The company has therefore adopted best practice from other international standards such as IES LM79-08 and CIE 127:2008 to ensure that its measurements are accurate and trustworthy.
Photometric Testing is managed by Dr Gareth John who has over ten years of experience in optical physics. Before starting Photometric Testing, Dr John was Laboratory Manager at a optical testing laboratory, dealing with a wide range of optics applications, including laser machining, environmental testing, optical communications, high speed imaging and optical spectroscopy. Gareth played a leading part in refocusing the laboratory's efforts towards the emerging solid state lighting photometric testing market, utilising his knowledge of optics and device physics to build a state of the art, temperature-controlled photometric testing facility and rebranding the business as an optical performance centre. Gareth is a member of the Institute of Lighting Professionals (ILP) and a founder member of the Solid State Lighting Metrology Working Group.
In addition to its lighting activities, the Photometric Testing provides a range of optical testing services to the wider photonics industry. Services include flash photometry and in particular conformance testing of Visual Alert Devices in accordance with BS EN 54-23, and assessment of the hazardous light levels in accordance with IEC 62471 and the Artificial Optical Radiation Hazard Directive. The company also tests the luminance, colour and brightness uniformity of LCD as well as LED displays, and performs measurements of vehicle lighting and road traffic signs and signals.
Commenting on the opening of the new laboratory, Gareth John said: "I look forward to serving customers in both the lighting and wider photonics and display sectors with responsive measurement services. My experience gained over many years of running a photometric laboratory means that our team here at Photometric Testing will become a valued and trusted extension of our clients' technical departments. Not only do we provide comprehensive testing services, we go beyond that and assist our clients in optimising the performance of their products."
Contact
Dr Gareth John Photometric & Optical Testing Services LLP Cotswold Business Centre Rissington Business Park Upper Rissington, Gloucestershire, GL54 2QB, UK Tel: +44 (0) 1451 812222 Fax: +44 (0) 1451 812201
E-mail:info@photometrictesting.co.uk
Web Site:www.photometrictesting.co.uk