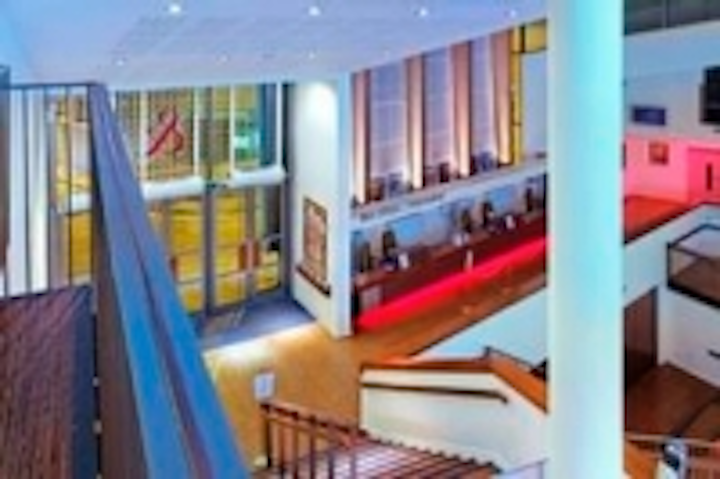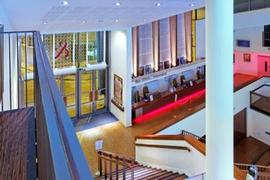 Date Announced: 04 Nov 2011
Three years into a major lighting refurbishment to tackle energy savings across its electrical bills, Royal & Derngate is making significant headway. By exchanging its current fittings with a selection of LEDs from Collingwood Lighting's extensive portfolio, the theatre has had a staggering 50 percent reduction in utility costs from when it commenced the project.
Royal & Derngate is Northampton's major theatre complex, housing two contrasting auditoria and visited by 300,000 plus people each year. Michael Chisholm, maintenance manager at Royal and Derngate Theatre explains: "For any theatre, the lighting scheme is crucial to enhance the visitor's experience. Added to this, the large electricity bills a building of this size incurs meant we had to address the current lighting design.
"Over the last three years we have been installing LEDs from specialists Collingwood Lighting around the building, which has culminated in a saving of over £32,000 a year already."
The revamp of its lighting technology is still in progress as Royal & Derngate replace all the diochroic GU10 fittings across the building. The switch to Collingwood is intensive and already incorporates all of its foyers, bars, the Royal corridors and auditorium pass corridors.
The theatre has replaced its old dichroic 50W fittings with a combination of LED's from Collingwood's portfolio, including the LL030's and LL090's and 21 Watt PowerLED ARIII light units, along with the replacement of 70W HT fittings with 18W LED linear bars. In addition, strip lighting was substituted with high powered light source RGB flexible strip LED lighting.
"The size of our building is one million square feet and we are now fully into Band B rated 40. Three years ago we were in Band D rated 100, and this would of course be typical of a building of our size. From our latest electricity bill, it works out we have a 50 percent saving compared with three years ago, which is tremendous," says Michael Chisholm.
"Our next project is in the main auditorium, where we still have 100 50W dichroic lights. We are changing them to 6W Collingwood LL090 flood lights, which will save 4.4kilowatt-hours over an 18-hour day. The pay back is quick - just by replacing 100 dichroics in the next space will save a further £3,000 a year on our bill."
Combined with this, the theatre's maintenance costs have been reduced and lighting quality improved throughout the building. The average lifespan of a diochroic unit is between 2,000 and 4,000 units, which equates to approximately three to four individual lamp changes per year. Having replaced this with the high quality LEDs, the theatre has saved over £600 on new lamps so far, decreasing labour costs previously associated with constant re-lamping.
Michael Chisholm adds: "It's good for the environment in other ways too, as we are also saving on carbon emissions. With the increased life of the units we aren't contributing to landfill - or being charged for recycling lamps. In addition, the low heat of the LED units means a much lower fire risk."
The Royal auditorium is a Victorian theatre whilst Derngate is a large, modern and adaptable auditorium, which can be used for anything from pop concerts and comedians to large-scale touring musicals.
Contact
Gerry Cherry CIB Communications Riversway Leatherhead Bridge Guildford Road Leatherhead
E-mail:mhairid@cibcommunications.co.uk