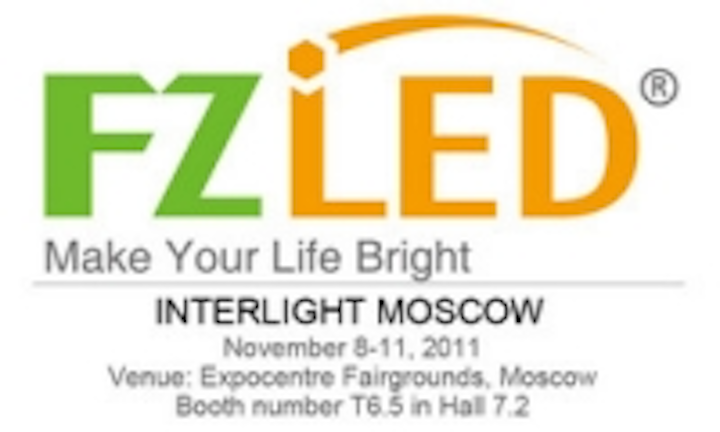 Date Announced: 04 Nov 2011
Taipei, Taiwan –- FZLED, a leading maker of LED lighting products, is excited to announce their plans to exhibit a number of their newest and most efficient LED lighting products at the FZTech booth (number T6.5 in Hall 7.2) during the trade show, INTERLIGHT MOSCOW, to be held at the Expocentre Fairgrounds in Moscow, Russia, November 8-11, 2011.
During the trade show, FZLED will be highlighting their FZL-DL-06 and FZL-DL-08 ultra-slim, cost effective, and easy to install LED downlights that feature cutting-edge light guiding technology to make illumination gentle, pleasant, and perfectly balanced. FZLED wishes to extend an open invitation to general public to visit their booth at T6.5 in Hall 7.2 and get an up close look at these low-cost, long life cycle 12W (six inches wide) and 22W (eight inches wide) downlights that are tailored for indoor, architectural, and atmosphere lighting.
Also featured at the FZLED booth will be their extremely popular FZL-T8 LED tube lights that come in two feet long (12W), four feet long (22W), and five feet long (28W) models with Correlated Color Temperature (CCT) options of bright 6000K, softer 4000K, or softest 3000K. In addition to their high-quality, FZLED's tube lights have found popularity because they require no starters and have wide illumination spectrums, plus users do not need to remove traditional ballasts during installation. FZL-T8 LED tube lights emit no harmful UV or IR rays and contain no mercury, making them eco-friendly. Some users have even reported more than fifty-percent in energy savings as compared to traditional T8 tubes. Combined all these factors make FZLED's series of tube lights great choices for home, office, and industrial use.
In addition to their well-designed downlights and tube lights, visitors will be able to take a look at the company's other great LED products including MR16, PAR20, PAR30, PAR38, GU60 bulbs, tube lights, downlights, as well as panel lights, head lights, flexible work lights, and LED torches for bikers and hikers.
About FZLED
FZLED is a Taiwan-based developer and manufacturer of high-performance, energy saving LED lighting products. Utilizing the expertise of their parent-company FZTech Inc., FZLED's products beat the competition with low-heat emissions and long lifetimes. Committed to excellence, FZLED enforces strict quality controls for the entire manufacturing process and conducts R&D projects continuously, in an effort to create high-quality LED lighting products for consumers that are light-weight, environmentally-friendly, and thermally-optimized. For more information visit FZLED online at www.FZLED.com.tw.
Contact
FZtech Inc. Phone: +886-2-2228-7885 Fax: +886-2-2228-8938 Address: 7F-3,No.498, BanNan Rd., Jung He Dist,New Taipei City ,Taiwan,235,R.O.C
E-mail:sales@fztech.com.tw
Web Site:www.FZLED.com.tw