Focus supplies LED lights to Gazprom service stations
Jan 21st, 2011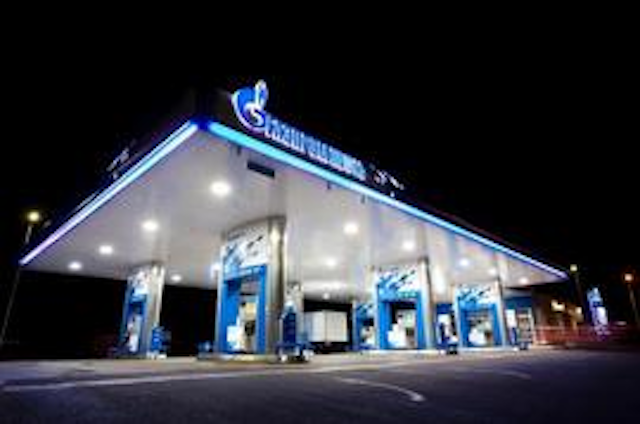 Date Announced: 21 Jan 2011
Company Focus, a manufacturer of modern, reliable and high-tech LED lamps implement projects for the coverage network of service stations owned by Gazprom in Moscow, Chelyabinsk, Tyumen, Sverdlovsk and other regions of Russia.
Gazprom Neft - one of the largest and fastest-growing oil and gas companies in Russia.
Company's main activities are exploration, development, production and sale of oil and gas, as well as production and marketing of petroleum products. Gazprom Neft has been operating in the largest oil and gas regions of Russia: Khanty-Mansi and Yamal-Nenets Autonomous District, Tomsk and Omsk regions. The main processing facilities of the company are located in Omsk, Moscow and Yaroslavl regions.
Proved reserves of Gazprom Neft exceed 1.1 billion tons of oil equivalent, which puts it on a par with the twenty largest oil companies in the world. The resource base of Gazprom Neft is increasing annually due to the acquisition of new assets in Russia and abroad.
The group "Gazprom Neft" includes over 40 oil producing, refining and marketing enterprises from 18 Russian regions and CIS countries, united by the principle of vertical integration. The company recycles more than 60% of crude oil, showing the best ratio in the industry of mining and processing.
Production of Gazprom Neft is exported to 48 countries and sold throughout the Russian Federation through an extensive network of marketing companies. The network currently operating gas station company (owned, leased and franchised), includes more than 1500 filling stations in Russia, CIS and Europe.
To highlight the network of stations used USS-70/100 fixtures designed for installation in a gas station canopy. To illuminate the area filling stations are used lamps USS-180 Highway.
The company "FOCUS" performs a full production cycle, from product development to deployment in their lives. There are many innovative solutions, patents, and implemented projects in energy conservation and environmental protection.
In products of "FOCUS" apply their own innovative solutions which have no analogues in the world such as:
* Temperature control system that avoids overheating;
* electronic fuse;
* LED drivers control their own production on the basis of completing the world's leading manufacturers who are constantly improving.
The company has a lot of attention paid to the quality of output and quality control stability. We constantly strive for excellence of its products and develop new technologies. All products are, thoroughly tested and certified quality. Production is protected against tampering and forgery in the form of various digital and brand marks and holograms.
The company produces products that meet the stated specifications, and have a high resource reliability.
Contact
141195, Russia, Fryazino city, Moscow region, Stancionnaya street, 1A Tel./fax: +7 (496) 255-66-85 Prokhorov Igor
E-mail:242187@mail.ru
Web Site:www.ledsvet.ru