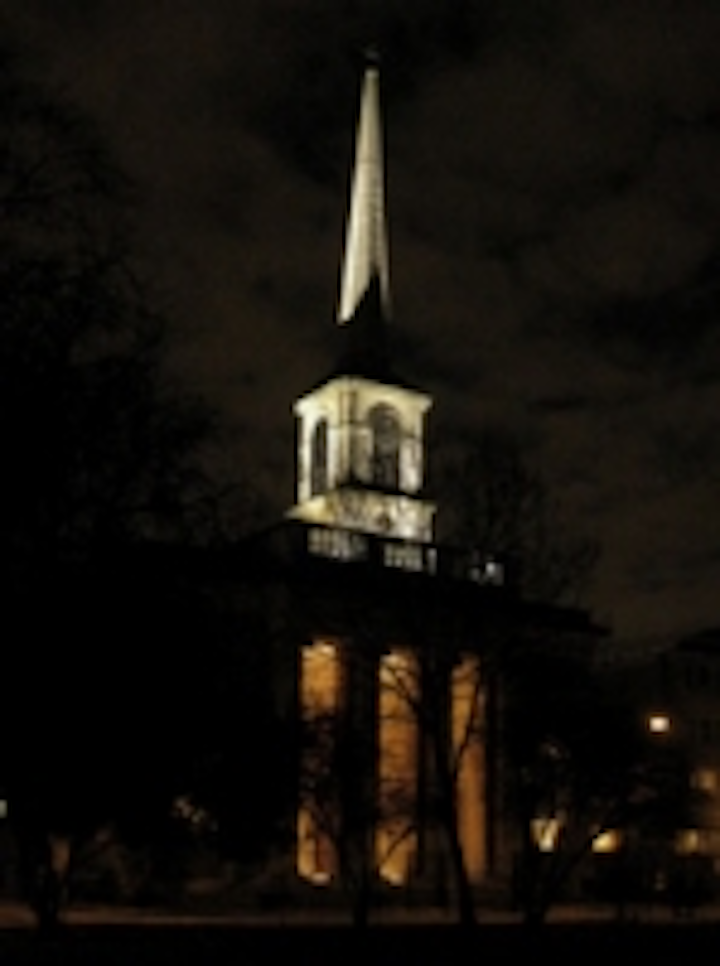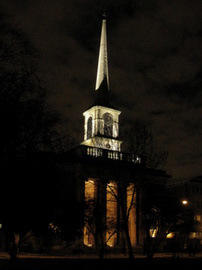 Date Announced: 05 Jan 2011
St. Clement's church in Finsbury, London is now lighting up the capital's skyline as a result of a project designed and specified by LED suppliers Architainment Lighting Ltd in conjunction with Islington Council. The council was looking to enhance the church's identity, which had always blended into the background of King Square, and it was looking to do this using a low-energy, low-maintenance lighting system.
Architainment Lighting specified a range of LED fittings that could meet the council's environmental and financial requirements and these were then installed by Wishbone Electrical to illuminate St. Clement's portico, church tower, spire and clock. For the spire and portico, Architainment supplied Philips Color Kinetics eW Blast Powercore an LED floodlight with a high-intensity wash of white light while. This fixture provides low energy consumption and long lifetime, resulting in zero maintenance. For the side recesses, Philips Color Kinetics eW Graze Powercore was fitted. This linear lighting fixture is perfect for surface grazing and wall-washing applications and available in any combination of eight colour temperatures (2700 K – 6500 K). The building's balustrade was back lit with LED Linear's VarioLED Apollo IP67, a low-profile IP67 protected LED luminaire that is easily concealed.
The project was funded by EC1 New Deal for Communities, with support from Islington Council. Commenting on the project, Architainment Lighting's Key Account Manager, Rob Anderson said: "It was really rewarding to work with Islington Council to realise a project that is both environmentally friendly and cost efficient. I am happy to see that the installation is complete ready for the dark winter months and I am sure it will make a positive impact on the local community."
Churchgoers were joined recently by the Bishop Graeme Knowles, the Dean and Chapter of St Paul's Cathedral, to bless the lights as part of the patronal festival celebrations, giving thanks for the life and witness of Clement, Bishop of Rome.
www.architainment.co.uk
www.islington.gov.uk
www.yourec1.com
www.wishboneelectrical.co.uk
www.led-linear.com
www.colorkinetics.com
Contact
Holly Winman PR and Marketing Coordinator T: 01494 471340 F: 01494 442627
E-mail:Holly.winman@architainment.co.uk
Web Site:www.architainment.co.uk