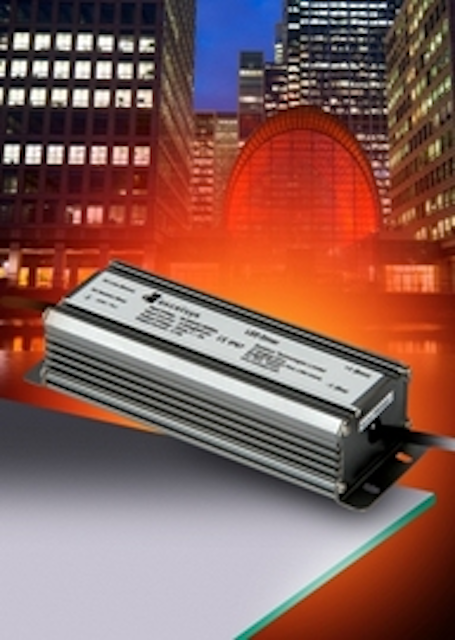 Date Announced: 28 Jan 2011
5 Year Warranty
75W and 100W - Fixed or Dimmable Output Versions
1-10Vdc dimming
High reliability and high performance in a compact package
Excelsys Technologies, technology leaders in high efficiency power supply design, announce the introduction of further models in their market leading range of products for outdoor and indoor LED lighting applications. With industry leading efficiencies up to 92%, an extensive protection feature set and capable of delivering up to 100W of output power in an extremely compact package size these new power supplies will be very popular with LED lighting manufacturers.
The LXD75 and LXD100 range of dimmable LED power supplies deliver 75W and 100W of dimmable output current. Operating off a 1-10V control voltage or resistor programming, the LXD series offers a wide dimming range of 10% to 100% of output current. Offering up to 100W over the voltage range of 14-286V, this flexible range of output current variations satisfy applications that utilise single series string LEDS as well as multiple parallel string LED arrays.
The LXC75 and LXC100 families deliver 75W and 100W respectively of fixed constant current output power at popular current levels including 350mA, 700mA and 1400mA as well as alternative current levels of up to 5000mA.
The Excelsys LX series offers lighting designers a high reliability power solution with MTBF figures in excess 450,000 hours, waterproof IP67 rating, UL8750, EN61347-1, -2, -13 compliance with CE marking and RoHS compliance.
Further high performance features offered as standard on all models include a universal input from 90-305VAC, active PFC, over voltage and short circuit protection and an operating temperature range of -35 to +70ºC.
Dermot Flynn, Director of Sales for Excelsys Technologies, comments. "This extension to our existing very successful range LED lighting solutions continues to demonstrate the flexibility of Excelsys high efficiency power solutions and our ability to provide a fast and competitive response to new market requirements. LED lighting solutions are becoming increasingly popular because of their small size, high efficiency and long life and are finding applications in domestic, industrial, architectural and display products. Our newly introduced dimming feature allows the user to actively control light levels and introduces a greater energy saving capability. This new range of LED power supplies provides a state of the art power solution for a great number of lighting applications."
Typical applications for the LX series of LED power supplies include :
• In-store food display and mood lighting applications
• Outdoor signs, flat and wide screen street advertising displays
• In-store media channels in retail shops, including hyper marts, supermarkets and convenience stores.
• High bay lighting for conference centres, hospitality industry and general industrial and retail buildings
About Excelsys
Excelsys Technologies Ltd. is a world-class power supply company specilaising in the Design and Manufactur of Electronic Power solutions for the leading global manufacturers of Medical, Industrial, Military, Communications and Lighting equipment. Our products are supplied by an extensive network of the worlds leading Electronic Distribution companies, see
www.excelsys.com
for a distributor near you.
Contact
Dermot Flynn Excelsys Europe:+353 21 4354716 USA: +1 972 771 4544 Excelsys Technologies Ltd. 27 Eastgate Drive, Eastgate Business Park, Little Island, Cork, Ireland
E-mail:dermotflynn@excelsys.com
Web Site:www.excelsys.com