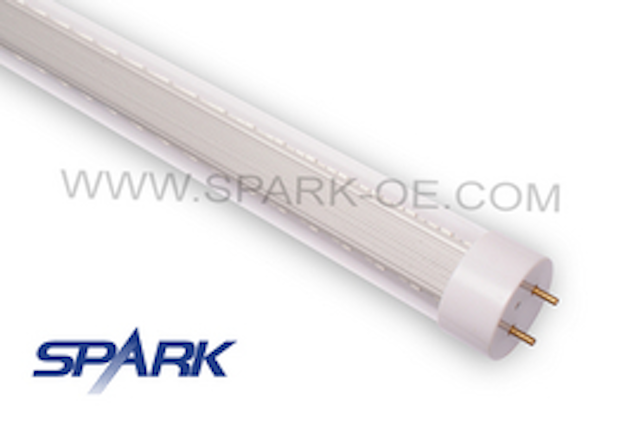 Date Announced: 11 Jan 2011
LED technology of Tube Light is increasingly being used in architectural lighting and workplace lighting applications. Spark upgrades LED tube with double lights for you. Due to its longer life and energy-saving qualities, lighting your home with Spark Tube Light LEDs! Enjoy the benefits and savings today!
Features of LED tube light:
• Replace T8 40W fluorescent tubes (no need connect with starter and ballast)
• Comparing with traditional fluorescent tubes, saving energy at least 40% for comparable illuminance
• No flick flash effectively reducing eyestrain
Environment friendly of LED tube light:
• No glass, no mercury, no electromagnetic emission, no UV, and no IR radiation
• CE and RoHS compliant
• Vibration and shock resistance
Spec. of LED tube light:
Model SPL-40W-SA-2
Wattage: 40W
LED quantities: 600LEDs
Light output: 2,700-2,800lm
Color temperature: 6,500K - 7,500K
Lighting angle: 120 degrees
Input voltage: 85 - 264V AC
Brightness degradation (after 1000hours) less than 5‰
Color rendering index: > 70%Ra
Housing material: diffused, transparent, translucent
Life span: >50,000 hours
Applications of LED tube light:
Hotels, hospitals, clubs, schools/colleges, conference/meeting rooms, residential, institution buildings, factories, offices, commercial complexes. And the places need to change different color light frequently or hard to maintenance.
Please feel free to contact us for one-stop exporting LED Tube Light solution Now!
Contact
Alice Wu Spark Marketing Director Tel: (86 755) 8390 4366 Fax: (86 755) 8390 4766
E-mail:sales@spark-oe.com
Web Site:www.spark-oe.com