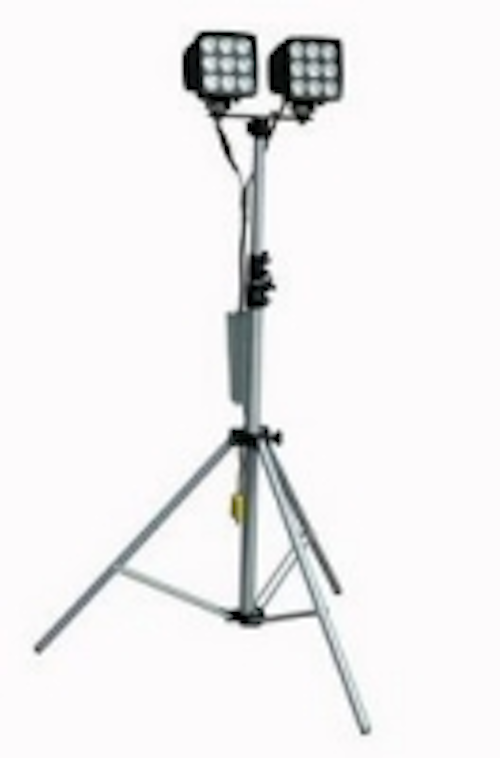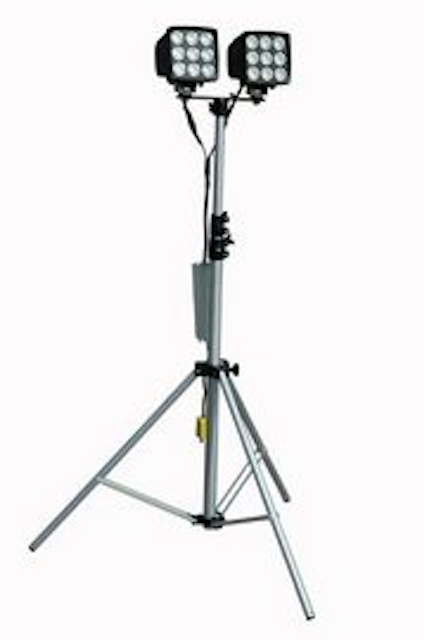 Date Announced: 21 Jan 2011
Dallas - The WALTP-2x90Y is one of the latest additions to the Larson Electronics' Magnalight line of industrial grade LED lighting options. Producing 14,400 lumens of light, this dual head LED light tower offers high power and convenience in a portable and efficient package. With two 90 watt LED heads mounted on a collapsible telescopic tripod, this 180 watt light tower produces illumination similar to comparable 1,000 watt metal halide fixtures.
Designed to provide brilliant illumination from a compact and lightweight package, the Magnalight WALTP-2x90Y LED light tower weighs only 20 pounds and can be easily stowed or deployed very quickly. Available in either a spot or floodlight configuration, this dual LED light tower can cover an area 2900'L x 90'W in spotlight configuration or 1600'L x 190'W in flood configuration. The dual LED light heads are highly maneuverable and can be easily manipulated to provide the precise amount of lighting coverage needed. The WALTP-2x90Y is wet area rated and can be positioned close to observers without any of the heat problems associated with metal halide fixtures due to its cool running LED light heads. The aluminum tripod can be extended anywhere between 4 and 9 feet and offers an extremely stable platform for the lights, even in windy conditions. Power options for this light tower include either 120/240 VAC or 12/24 VDC, allowing it to be operated from either standard AC power outlets or in the field from vehicle and generator based power sources.
Rob Bresnahan of
Magnalight.com
said, "This is a compact, lightweight multi-voltage mini LED light tower that can easily light up a football field. Operators can plug this into 120V, 240V, or even power it off of 12/24V vehicles for temporary scene lighting, first responder situations or small constructions sites. When they are done, they can pull the lights off, collapse the tripod and toss it in the service vehicle's tool box."
Larson Electronics' Magnalight offers a wide selection of LED lights, Led light bars, explosion proof LED lights, LED flashlights, intrinsically safe LEDs and LED spotlights. Visit
Magnalight.com
to learn more or call them at 1-800-369-6671 or 1-214-616-6180 for international inquiries.
Contact
Larson Electronics LLC Rob Bresnahan, 903-498-3363
E-mail:rb@magnalight.com