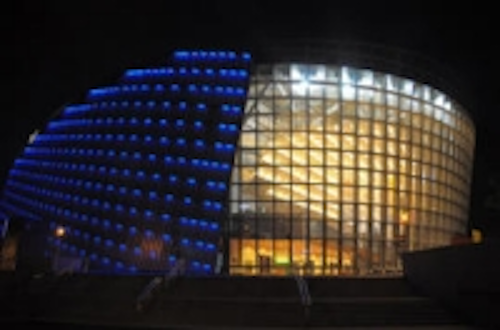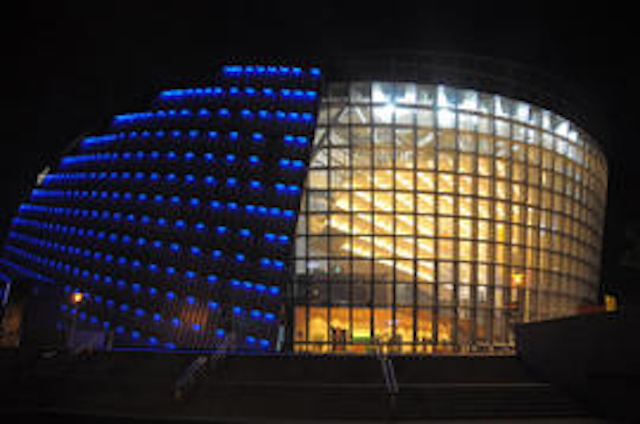 Date Announced: 13 Jan 2011
Taoyuan County Performing Arts Center(TCPAC) is located in Jhong Jheng Road, Tao Yuan County, new opening in December, 2009 with the rounded appearance and glass panel in the modern architectural design. This year's Golden Horse Awards is held in this center to make it more gracing!
TCPAC is constructed by the glass panel and surrounded with the light strips. ARC is proud to cooperate with Gi Guang Tech. for the scientific and technological lighting control system. It is provided by ARC to offer a complete control solution, not only to meet the customer requirements for cost effective, but also to achieve the goal of environmental protection.
To complete the lighting system, 2 pcs of ARC5001-B0 (DMX lighting controller) & 30 pcs of ARC3610-W (3-Channel Constant Voltage Driver) are installed and the lighting strips are equipped on the building exterior. The dynamic lighting effects are programmable by the unique software and editable flexibly according to the different topics. Despite the large scale of the building, the control expenses meet the customer's need of low expense and the system solution is environmentally friendly.
Product Used:
1. DMX Lighting Controller (ARC5001-B0)
2. DMX Multi-Channel Converter (ARC3730-W)
3. Light Show Editing Software : LightShow_Screen
ARC Lighting Corp. is designed to the customized intelligent lighting system for each customer. If you need further information, you are welcomed to contact us directly.
Contact
ARC SOLID-STATE LIGHTING 14F-2 NO.700,Chung-Cheng Rd.,Chung-Ho City,Taipei County 235,Taiwan,R.O.C
E-mail:joycechen@arclight.com.tw
Web Site:www.arclight.com.tw