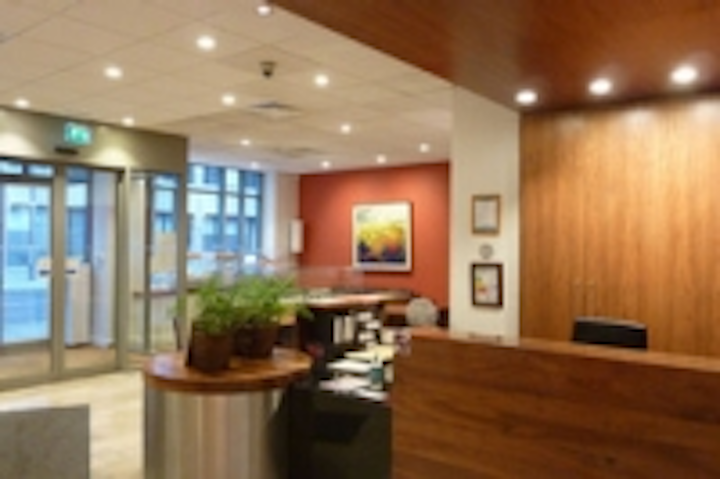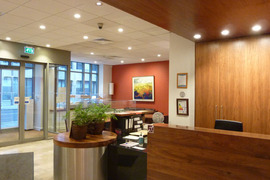 Date Announced: 24 Aug 2011
DONCASTER, UK -– A variety of luminaires and lighting controls from Cooper Lighting and Safety have been installed at the offices of the Irish planning board An Bord Pleanála in Dublin, helping to create a substantially improved working environment for staff and also achieving significant energy savings.
Facilities management services for the 5000m2 building are provided by HOCHTIEF Facility Management Ireland Limited, who recently undertook a major refurbishment of the lighting and lighting controls with the aim of raising the illumination levels in the reception and offices to current industry standards while reducing the overall energy consumption by 50%.
To achieve this goal, HOCHTIEF FM chose to use Cooper's RXD2 LED downlights, Modulay recessed fluorescent luminaires and DSI modular lighting controls, for which Cooper Lighting and Safety prepared detailed designs incorporating automatic daylight linking and occupancy-detection functionality.
The reception area is now lit by 36 RXD2 LED downlights, several of which are equipped with RXD wall-wash optic attachments. Utilising a multi-chip LED light source, the RXD2 consumes only 15W and achieves an efficacy of up to 68.2 lumens per circuit watt. Effective thermal management is provided by proven pure-water heat-pipe cooling technology, which transfers heat away from the back of the LED source to the cooling fins. This advanced method eliminates the need for large, heavy heat sinks and helps the RXD2 achieve a maintenance-free life of 50,000 hours.
For the building's office areas, HOCHTIEF FM installed more than 400 Modulay 4 x 14W high-frequency recessed fluorescent fittings. Cooper modular lighting controls provide daylight linking in the open-plan areas – automatically compensating for changes in ambient light levels – and occupancy detectors are used for automatic switching in all other areas.
An Bord Pleanála is delighted with the new lighting scheme, which has increased lighting levels by up to 50% and resulted in energy savings of 60%. The project was delivered and fully commissioned one week ahead of schedule.
Contact
Tel: +44 (0)1302 303200
E-mail:info@cooper-ls.com
Web Site:www.cooper-ls.com