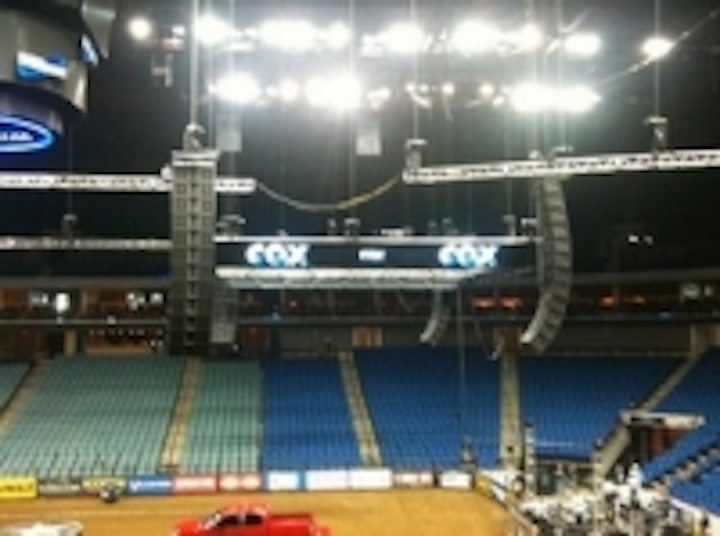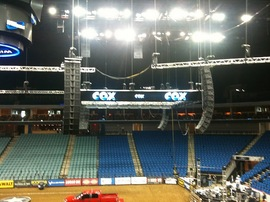 Date Announced: 16 Aug 2011
ANC Sports Hangs Horseshoe of LED Signage Above Built Ford Tough Series Event
ANC Partners with Express Lazy E Sports Production to feature over 100 feet of LED signage at Tulsa Invitational
ANC Sports Enterprises installed, operated and broke down its Diamond Vision® LED Event Signage for the Professional Bull Riders Built Ford Tough Series event at the BOK Center in Tulsa, Oklahoma August 12th and 13th.
Broadcast nationally on Versus, The Express Classic Presented By American Hoggers on A&E became the first PBR event to feature the specially designed televised digital signage. Tulsa was be the 22nd stop on the BFTS, which features the Top 40 bull riders in the world and makes 29 stops in 23 states.
The signage was hung 25 feet above the floor in a horseshoe format capable of displaying full motion graphics and sponsor acknowledgements. The system included twenty-four (24) LED modules suspended in the air, opposing the event's bucking chutes. All of the modules will be connected, creating seamless visuals across approximately 325 square feet of LED signage.
"ANC's event digital signage enables our corporate partners a greater flexibility to promote their brands both inside the venue and for viewers watching on television," said Bob Funk Jr., chief executive officer of Express Lazy E Sports Production, the event's co-producer. "We look forward to working with ANC to integrate the technology into other customized positions which generate visibility for our partners in the future."
The corporate partners of the Express Classic Presented By American Hoggers on A&E included A&E, AT&T, Cavenders, Cox Communications, Express Employment Professionals Express Ranches, Express-Lazy E Sports Production, Farm Credit of East Central Oklahoma, Fat Guys Burgers, Hooters, KFC, Oklahoma Lottery and the Oklahoma Highway Safety Office.
Through the agreement with Express Lazy E Sports Production, ANC Sports created all the still acknowledgements and full motion animations for the bull riding event's partners, as well as PBR graphics and crowd prompts. Additionally, two ANC technicians were on-site throughout the event to ensure the signage delivered the highest impact visuals.
Driven by ANC Sports' patent-pending VisionSOFT™ operating system, the signage system provides new televised branding and entertainment opportunities to bull riding, such as congratulating winners. In addition, the signage is capable of synchronizing to feature one dynamic full motion visual which can provide moments of exclusivity or segmenting into individual images for various sponsors.
The 2011 BFTS season began at world-famous Madison Square Garden, and culminates Oct. 26-30 in Las Vegas at the richest bull riding event in the world, the PBR Built Ford Tough World Finals. The Finals is where the 2011 PBR World Champion will be crowned and awarded the $1 million Built Ford Tough bonus.
About ANC Sports
ANC Sports Enterprises, LLC, is the industry leader in team and venue services, providing integrated signage, design, and marketing solutions for sports and commercial facilities. ANC Sports and its divisions: ANC Technologies, ANC Design, and ANC Marketing, offer Light Emitting Diode (LED), rotational and fixed visual displays; advanced media control systems; signage operation and maintenance; advertising sales and marketing consultation; graphic design; and printing production. For more information on ANC Sports, please visit its web site at www.ancsports.com.
About the Professional Bull Riders, Inc. (PBR)
The PBR is the world's premier bull riding organization. More than 100 million viewers annually watch over 400 hours of primetime PBR programming on VERSUS, NBC, CBS and networks around the world. The PBR has awarded over $100 million in prize money and 20 riders have earned over $1 million, including Justin McBride with $5.5 million -- the most of any western-sports athlete in history. The PBR was nominated as 2010 Sports League of the Year at the Sports Business Journal Sports Business Awards, alongside the National Football League, National Basketball Association and Major League Baseball. Nearly 2 million fans attend Built Ford Tough Series and Touring Pro Division events each year. For more information on the PBR, go to www.pbr.com, or follow on Facebook at www.facebook.com/TeamPBR and http://twitter.com/TEAMPBR.
About Express Lazy E Sports Production
Express Lazy E Sports Production is a division of Prodigal LLC, an entertainment management company with interests in several areas including co-promotion of Professional Bull Riders (PBR) events in Oklahoma City and Tulsa. Prodigal LLC operates the Oklahoma City Barons, American Hockey League affiliate of the Edmonton Oilers, organizes the Ram National Circuit Finals Rodeo (RNCFR) in Oklahoma City and operates Express Sports Agency which represents 20 rodeo and bull riding athletes.
Contact
Michael Hopkins ANC Sports Enterprises mhopkins@ancsports.com 914-696-2100
E-mail:mhopkins@ancsports.com
Web Site:www.ancsports.com