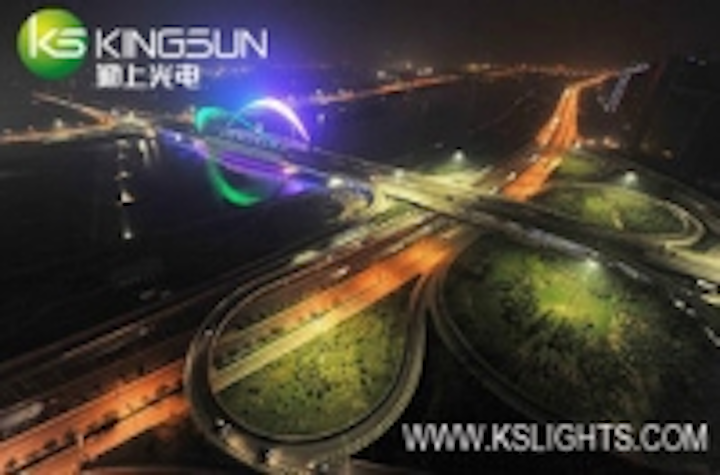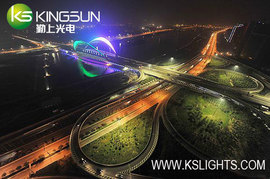 Date Announced: 19 Aug 2011
On July 31th, the southern central loop bridge in Taiyuan, China, finished its landscape lighting with the technology and product support from Kingsun Optoelectronic Co., Ltd, which lent abundant enchantments to the Expo Central China 2011 to be held in September.
The southern central loop bridge is known as the first high-standardly full interchange overpass and also an extra-huge landscape bridge in Taiyuan, linking eastern and western district with a total length of 2608 meters.
Over 10,000 sets of LED lights with various sizes, shapes, models, etc. were installed on the pier, bridge side, arch and suspender, which would create four dominant tones: green, blue, white and red, in accordance with different seasonal features.
Besides, it could be controlled by intelligent lighting controlling system with different brightness, light color, intensity changes for a vividly dynamic miraculous alternation.
All the lights adopted, as reported, are the latest released LED lights from Kingsun. With the same luminance efficiency, the lights could save energy at a rate of 80% with high reaction speed, low maintenance cost and without light pollution, glare or flicker, etc. Except for LED street lights, LED tunnel lights, LED canopy lights and other lighting fixtures, Kingsun has prepared well in landscape lighting. Why still hesitate? Come to find what you want now.
Contact
Dongguan Kingsun Optoelectronic Co., Ltd. Ms Jessie Chow Overseas Business Department TEL: 86-769-83395678-307 FAX:86-769-83395679
E-mail:ks_sales15@kingsun-china.com
Web Site:www.kslights.com