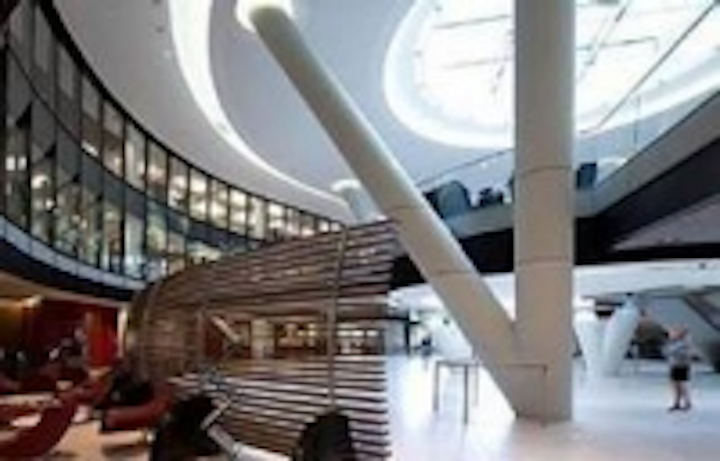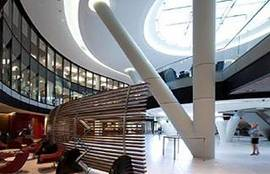 Date Announced: 15 Aug 2011
The new building for professional services firm PricewaterhouseCoopers LLP (PwC), which opened in April this year, is located in building 7 of the More London Riverside complex. Designed by Foster + Partners, the More London complex is a dynamic new business development on the south bank of the River Thames close to London Bridge. Consisting of More London Riverside and More London Place, both buildings form a business community surrounding a sunken amphitheatre and communal area.
PwC employs over 8000 people in London across the firm's assurance, tax and advisory businesses. They have been carbon neutral since 2007 and via effective operational management of lighting, heating and air conditioning consume 6% less energy per m² than industry recognised benchmarks. Their building services brief for this new building was thus demanding.
The fit-out of 7 More London by interdisciplinary design firm Building Design Partnership Limited (BDP) is the first building in the capital, and the first major office in the UK, to be awarded the BREEAM "Outstanding" rating. This was achieved via the use of solar panels, control systems and energy efficient lighting.
BDP is a 1000 strong interdisciplinary building design consultancy of architects, engineers , designers, lighting, acoustic and sustainability consultants, with a strong emphasis on sustainable design. From their London-based team the lighting design for this landmark installation was carried out by Elinor Coombs. She largely used TL-5 fluorescent, with about 30% LED downlighters, over a thousand of which were Designed Architectural Lighting's "Cool Ambiance" range incorporating the 1000lumen 3000k Ra80+ Xicato Spot Module.
The luminaires were chosen because of their elegant appearance, optical design, high build quality and cost value.
The modules were chosen for their no-compromise light quality including the industry best sustained 1 x 2 SDCM colour point tolerance combined with the rugged reliability essential for the often high ceiling heights (up to 4m) in order to ensure maintenance costs would be minimal. "The aim was to replace all tungsten halogen with LEDs if possible, without detriment to the lit effect", said Coombs. "When it came down to it Xicato was the best on the market and potentially the only one that really met our specification in terms of output and quality. The fact that Xicato was already working with DAL who were specified as our original luminaire source made for a great package".
Developer / 'Shell & Core' team: More London Development / Fosters + Partners; Roger Preston & Partners; Arup; Mace. Tenant / fit-out team: PricewaterhouseCoopers LLP / BDP (interior design, environmental engineering, sustainability, lighting, structural engineering); Turner & Townsend (project management and cost consultancy); Overbury (fit-out contractor)
Xicato
Xicato is a Solid State Lighting company founded by seasoned industry professionals, with offices located in Silicon Valley, California (HQ), London and Tokyo.
Xicato develops, manufactures and globally markets LED modules that simply are functional replacements for traditional lamp technologies, offering all the life and energy-saving advantages of LEDs with no light-technical or aesthetic compromises. Xicato provides industry leading specifications via an open approach with a global circle of leading end-users, specifiers and luminaire manufacturers. Xicato is committed to address the whole broad sphere of the general illumination world, taking on segment by segment with its focus on continuous innovation.
Xicato believes that lighting plays a valuable role in the creation of places for people. We highly recommend the use of a qualified lighting designer from one of the following organizations:
PLDA Professional Lighting Designers Association - www.pld-a.org
IALD International Association of Lighting Designers - www.iald.org
Designed Architectural Lighting
Founded in 1984 Designed Architectural Lighting has steadily established itself as one of Britain's leading architectural independent companies in the design and manufacture of luminaires. DAL's philosophy is one of constant improvement with a strong and experienced team in design and manufacturing luminaires for global markets. DAL is committed in offering the best luminaires for each application and is now fully encompassing the best in solid state lighting.
For more information about Designed Architectural Lighting and for contact details please visit http://www.dal-uk.com
Contact
Roger Sexton
E-mail:roger.sexton@xicato.com
Web Site:www.xicato.com