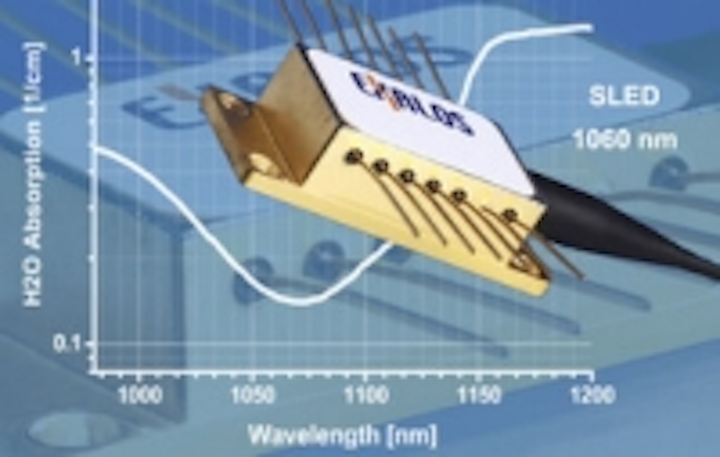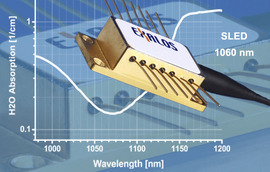 Date Announced: 05 Aug 2011
-- 70 nm spectral width with 20 mW of output power
Zürich, Switzerland -– EXALOS AG has introduced a new high-performance, fiber-coupled and cooled Superluminescent Light Emitting Diode (SLED) centered around 1060 nm. With a typical 3-dB bandwidth of 70 nm and a high optical output power of 20 mW the SLED EXS210010 is perfectly suited for Optical Coherence Tomography (OCT) or other imaging applications requiring a light source in the near IR.
Key Features:
• Center wavelength of 1060 nm matching the water absorption window
• 3-dB optical bandwidth of 70 nm for similar axial resolution than 840 nm SLEDs
• Output power of 20 mW matching higher MPE levels at 1060 nm compared to 840 nm
• ESD protection features included in the 14-pin BTF package
Compared to retina analysis with SLEDs in the 800 nm regime, examination with a center wavelength of 1060 nm shows some distinct features, amongst others:
• deeper penetration into the choroid with choroidal/sclera interface detection
• choroidal penetration independent of fundus pigmentation
• better retinal OCT performance in cataract eyes
For customers requiring light sources with bandwidths broader than 70 nm for their application, EXALOS is offering broadband light sources with spectrally-combined SLEDs to achieve 3-dB bandwidths of 110 nm and 10-dB bandwidths of 130 nm. This broadband light source can be offered either as a turn-key R&D benchtop system or as an OEM unit for easy system integration.
With high-power SLEDs centered around 1060 nm our customers are now able to choose between two technologies from EXALOS: SLEDs for spectrometer-based OCT applications and swept sources for high-speed OCT systems.
SLEDs combine features of both Laser Diode (LD) and Light Emitting Diode (LED) technologies: All SLED devices exhibit extremely low coherency compared to laser diodes from very small emission areas compared to LEDs. An SLED is closing the gap between LDs and LEDs being a temporal incoherent, spatially coherent light source.
For more information about our products please visit our website at www.exalos.com or contact us at sales@exalos.com
EXALOS is committed to our environment. All components and fabrication or assembly processes used for the production of our SLEDs are compliant to the Restriction of Hazardous Substances (RoHS) directive 2002/95/EC.
ABOUT EXALOS
EXALOS AG, an ISO 9001:2008 certified company, is developing and selling SLEDs and Swept Sources to the medical imaging, fiber optic gyroscope, test equipment and sensor industries. The Company has its headquarters in Schlieren located in the Greater Zurich Area in Switzerland.
EXALOS AG has established strategic alliances with technological- and cost leadership partners, with the goal to provide customers with the optimum balance of price, time to market, performance, and size for any given specification. This approach gives EXALOS the flexibility to develop devices as solutions tailored for particular customers and markets.
EXALOS AG SLEDs target specific applications such as:
• Optical coherence tomography for medical and industrial applications
• Fiber optic gyroscopes for avionics, aerospace and navigation
• Test equipment for telecom and datacom systems
• Fiber optic sensors
Contact
Office: +41 43 444 60 90
E-mail:info@exalos.com
Web Site:www.exalos.com