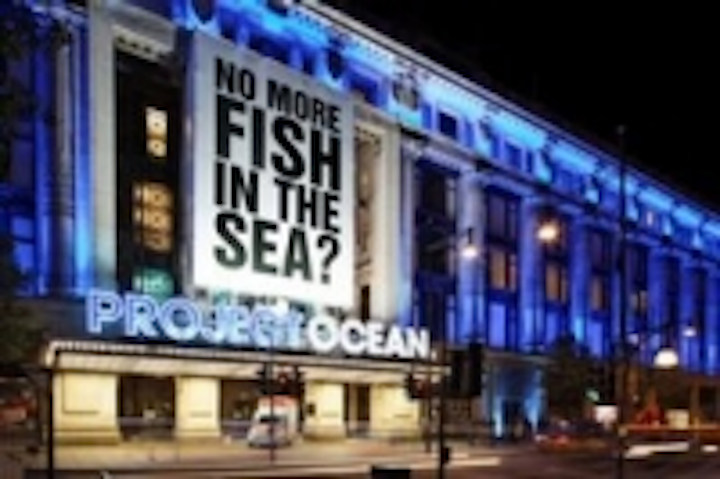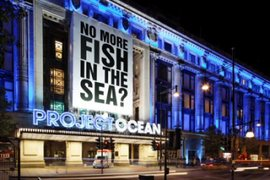 Date Announced: 03 Aug 2011
Selfridges, London, United Kingdom –- Philips in collaboration with Architainment Lighting Limited has provided Selfridges, one of the world's most prestigious retail destinations, situated in the heart of London's bustling Oxford Street, with state-of-the-art LED lighting.
Selfridges needed a flexible lighting solution that could produce a broad spectrum of colours and effects to support the department store's key events and projects, specifically Project Ocean. It also required lighting that would entice and inspire shoppers by enhancing the retail experience. Furthermore, with sustainability high on the agenda, the lighting solution also needed to deliver energy savings.
Philips' expertise and unrivalled knowledge of LED lighting meant it was able to provide Selfridges with a dynamic, low-maintenance lighting solution capable of completely transforming the department store's facade at the push of a button, while at the same time delivering energy savings of 30%.
With this solution, Philips was able to support the global launch of Selfridges' Project Ocean campaign; designed to engage the public on the issue of overfishing, by creating a highly visual and impactful 'sea' effect on the building. A powerful display of this kind meant that the campaign's call to action encouraging people to eat more sustainably would engage and reach an even wider audience.
Selfridges is renowned for its thematic window displays that change throughout the year to support pivotal moments in time and important campaigns. Therefore, Philips used a range of adaptable, high-performance LED luminaires that combine rich, saturated colour and customized effects with simplified installation and maintenance.
Philips' flagship ColorReach Powercore, which represents the next generation in exterior lighting, was used to highlight the building's key architectural features. The ColorBlast PowerCore, suitable for both interior and exterior architectural lighting, was used for its versatile positioning and wide range of capabilities including wall washing, grazing, floodlighting and spot lighting. Furthermore, Philips' linear, colour-changing LED surface light, the ColorGraze Powercore, was used for its compact and low profile design with flexible mounting options that allows for discreet placement.
Selfridges is not only an iconic retail destination, but the building itself is a listed landmark with many beautiful and historic architectural features and there are strict rules in place governing how fixtures are affixed to the building. Philips worked closely with Selfridges' in-house electrical contractor to find solutions to this issue and it was decided that a special resin would be used to mount the lighting, omitting the need for any drilling, which is prohibited. The lighting had to be installed out of opening times to ensure the project did not cause any disruption to the store's normal operations. Architainment, who supplied the lighting for the project, showed utmost flexibility by providing technical expertise and support late into the night, alongside Lateral Concepts who carried out the installation after hours.
Lee Shields, Key Account Manager, Architainment: "It has been an absolute honour to be involved in lighting such an iconic building in London, especially given its association with such an exciting and credible environmental campaign. As with any high profile project, there have been obstacles we've worked hard to overcome, but seeing the positive response to the lighting has made this a particularly rewarding and proud experience for Architainment."
Rolando Faley, Selfridges head of facilities and project management says: "Philips provided our store with a lighting solution that not only helps to reduce our carbon footprint, but grants us full flexibility in adapting the lighting to fit an endless range of themes through the diverse palette of colours. The 'sea' effect created on the building's facade to help raise awareness of our Project Ocean campaign was truly effective and is just one example of what we are able to achieve with the lighting. The scheme accommodated the building's architecture and listed status while the work was carried out outside the store's opening hours to avoid disruption for shoppers."
Although the initial brief was to provide a scheme for the external facade on Oxford Street, the decision was made to extend the scheme to both Duke Street and Orchard Street to wrap the lighting around the building so that it would be visible from all approaches.
About Royal Philips Electronics
Royal Philips Electronics of the Netherlands (NYSE: PHG, AEX: PHI) is a diversified health and well-being company, focused on improving people's lives through timely innovations. As a world leader in healthcare, lifestyle and lighting, Philips integrates technologies and design into people-centric solutions, based on fundamental customer insights and the brand promise of "sense and simplicity." Headquartered in the Netherlands, Philips employs over 120,000 employees with sales and services in more than 100 countries worldwide. With sales of EUR 22.3 billion in 2010, the company is a market leader in cardiac care, acute care and home healthcare, energy efficient lighting solutions and new lighting applications, as well as lifestyle products for personal well-being and pleasure with strong leadership positions in male shaving and grooming, portable entertainment and oral healthcare. News from Philips is located at www.philips.com/newscenter.
Contact
Media Relations Manager Philips Electronics, Corporate Communications UK Barbara Neate Tel; +44 1483 293 071
E-mail:barbara.neate@philips.com
Web Site:www.philips.com