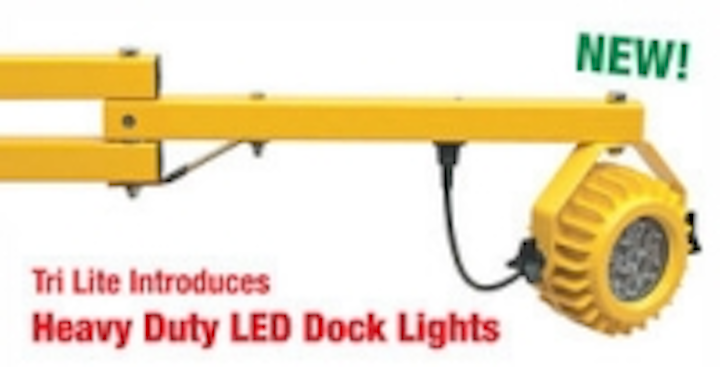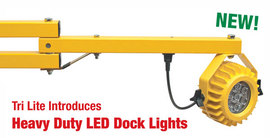 Date Announced: 11 Aug 2011
The new HDLED dock lights utilize seven state-of-the-art, high intensity LEDs per lamp, incorporating the latest LED technology. They bathe the area with bright, cool white light while illuminating trailers and highlighting true colors.
Each light will maintain at least 90% of its light intensity for over 60,000 hours.
Also, each light uses 80% less energy than halogen bulbs, and reaches full power instantly. The lamps operate over a temperature range of -20 to 105 degrees Fahrenheit.
They're versatile, rugged, heavy duty lamps that will outlast 25 incandescent bulbs each, and yet they demand 94% less energy.
These HDLED lights are rated for "wet and damp locations." Each can operate over a voltage range of 100 to 240VAC at 50/60 Hz. All are UL, cUL, CE certified and are RoHs compliant. Each has a short power cord that plugs into all Tri Lite dock light arms, or it can be used alone.
Tri Lite offers its HDLED series together with its extensive line of mechanical arms as complete dock light assemblies. They are available with single or double arm units of 24, 40, 60, or 90 inches. Cooling fans can also be incorporated with the HDLED light heads.
HDLED units are competitively priced, and dealer pricing is quantity dependent. Discounts approaching 50% are available when 48 or more units are ordered, even for scheduled releases!
All lamps come with a three-year warranty.
Dock and warehouse workers need not be afraid of knocking them around with forklifts, rolling stepladders, and their own general battering array of tool kits. They're all packaged inside virtually indestructible cast aluminum housings. Each light is fitted with a polycarbonate lens that's well designed to withstand impacts.
The light head has an on-off switch recessed at the back, reducing chances of being hit, flipped, shut off, or damaged. And the modular construction allows it to be field repairable.
The HDLED series adds to the LED line. Tri Lite continues to offer its PLED series of dock lights which incorporate a specially designed PAR38 LED bulb installed in the patented Polycarbonate Light Head.
And the price on the PLED units has been lowered and dealer discounts have been increased!
Units are in-stock and ready for immediate shipment.
Additional literature is available: http://www.triliteinc.com/literature/product-literature.cfm
Contact
Bob Herling Tri Lite Inc. 1642 Besly Court, Chicago, Illinois 60642 phone: 773-384-7765 fax 773-384-5115
E-mail:rherling@triliteinc.com
Web Site:www.triliteinc.com