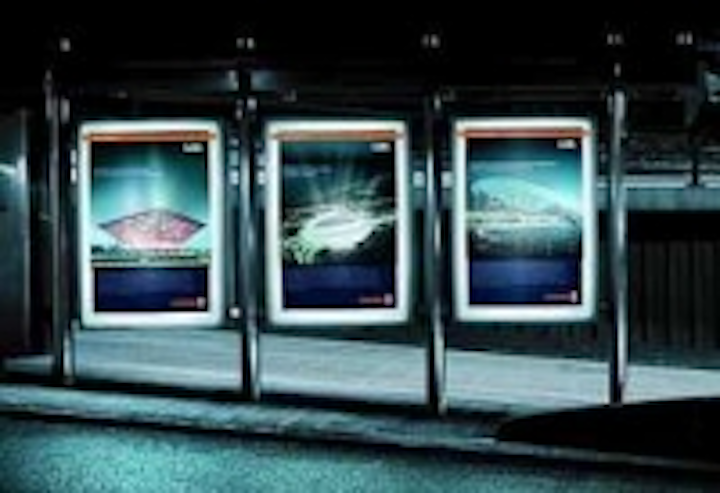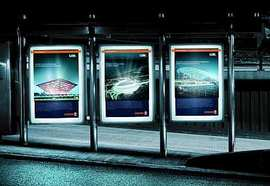 Date Announced: 16 Aug 2011
OSRAM and ThyssenKrupp Plastics will be working more closely together on signage. That way, customers benefit not only from the quality of two brand manufacturers, but also from comprehensive service and high-value light solutions, optimally tailored to match the individual requirements of lighting for advertising.
The portfolios of both companies contain flexible, high-performance products and systems, fulfilling virtually any requirement in terms of profiled lettering, light boxes or city-light posters. From more than 40,000 different plastic semi-finished products from ThyssenKrupp Plastics, customers can select the ideal type for the desired advertising vehicle. The product range includes a variety of stocked items in different colors, shapes, thicknesses and surfaces, so that individual needs in terms of dimensions and processing can be fulfilled within a short time frame.
The new solutions from OSRAM provide brilliant colors for lighting-based advertising – also called "signage" in technical language. Depending on requirements, there are products available which provide back lighting (Boxled Back, Backled) or side lighting (Boxled Side), as well as the LED module Linearlight Flex Protect for ultra-flat displays – all equipped with energy-efficient LED technology.
All modules can be integrated smoothly into the product programme of ThyssenKrupp Plastics. Thanks to the so-called Flat Ray technology, Boxled Back and Backled also provide a homogeneous illumination in the case of very flat systems. The customer's advantage: compared to the previous series, up to 75 percent of the modules can be saved. This results in lower product and assembly costs. Tools such as "Click & Play" also make a quicker, lower-cost assembly possible: the modules can be integrated into the respective application by means of simply being clicked into place, with the help of an assembly profile.
Consultation from professionals
The collaboration offers customers not only a wide selection of high-value products, but also comprehensive service and consultation: with 20 bases in Germany, ThyssenKrupp Plastics has built up a tightly-knit network for customer care. OSRAM is using its lighting experts to support ThyssenKrupp in its consultancy on lighting-related questions. That way, customers of ThyssenKrupp Plastics gain from the expertise sourced "from one single cast" with regard to material and lighting, gaining a solution perfectly matched to their requirements.
"The cooperation is a benefit for everyone involved. Customers get high-value signage solutions from a single source, with highly competent customer care and consultation through the whole process – from the planning through to the implementation. In this way, our companies strengthen their position as reliable partners, with a broad product range and a rapid delivery time", notes Thomas Bekel, Product Manager at ThyssenKrupp Plastics.
With the "Leddesigner" from OSRAM, customers can determine online which the suitable components are and what is the right arrangement for them. You will find the application support at www.osram.com/signage.
The catalog "A new approach to light" offers an overview of the OSRAM LED product range for professional lighting. The catalog is available for download at www.osram.com/led-catalog.
ABOUT THYSSENKRUPP PLASTICS
Essen-based ThyssenKrupp Plastics GmbH is a nationwide provider of product and application advice, value-adding product processing, product procurement and supply. The portfolio of over 40,000 plastic products and brands is sourced exclusively from notable internationally operating producers ranking among the technology and market leaders in their fields. The sales line-up is tailored to the specific requirements of customers in the home improvement and specialty building materials trades, building, industrial pipeline system, industrial plastics and visual communication sectors.
ABOUT OSRAM
OSRAM (Munich) belongs to the Industry Sector of Siemens and is one of the two leading light manufacturers in the world. In the 2010 financial year, it achieved a turnover of € 4.7 billion. OSRAM is a high-tech company in the lighting sector and 70 percent of its turnover comes from energy-efficient products. The company, which is very much internationally oriented, has around 40,000 employees worldwide, supplying customers in 150 countries worldwide from its 42 production sites in 16 countries (September 30).
Contact
OSRAM Christian Bölling Tel: +49-89-6213-2597 Fax: +49-89-6213-3457 ThyssenKrupp Plastics Thomas Bekel Tel: +49-211-58348-112 Fax: +49-211-58348-138 Email: thomas.bekel@thyssenkrupp.com
E-mail:c.boelling@osram.com
Web Site:www.osram.com