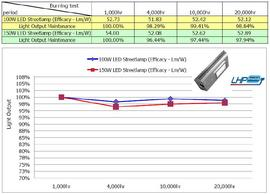 Date Announced: 01 Aug 2011
As 1st manufacturer of LED street lighting in Taiwan from Year 2005, Advanced Thermal Devices Inc. (ATD) proves its two mainstream models' lowest light decay after 20,000 hours continuous burning test at TAF approved Laboratory since Year 2008. Embedded with globally patented low-cost Loop Heat Pipe (LHP) thermal device inside of ATD LED street lightings, LHP systems provides highly efficient and reliable passive heat dissipation function to achieve the most excellent performance after 20,000 hours continuous test.
Through the longest, 6 years, roadway installation experience, ATD proves its quality and reliability, also cooperate with worldwide partners to install numerous LED street lightings in Japan, USA, Canada, Germany, Italy, Spain, UAE, Croatia, Czech Republic, Malaysia, Indonesia, Australia, China, Taiwan….etc.
Advanced Thermal Devices, Inc.
B1F, No. 205, Sec. 3, Beisin Road, Xindian District, New Taipei City, 23143, Taiwan
Tel: +886-2-8913-1997
Fax:+886-2-8913-1907
E-mail: sale@atdi-web.com
Web: www.atdi-web.com
Advanced Thermal Devices, Inc. (ATD) is an innovative thermal technology specialist and LED Solid state lighting manufacturer. ATD aims high to supply reliable excellent quality, certifications approved and good services for Solid-sate lighting industry.
With below competitive advantage which customers rely on :
1)The lowest light decay in the world.
2)Worldwide patent Loop Heat Pipe (LHP) heat dissipation device – Thermal management.
3)Optical design for Type I, II, III, IV, V Light distribution.
4)Light-weight design, only 5.5 Kg for 100W Luminaire.
5)UL, cUL, CE, CNS 15233, CQC, CCC approved.
6)ISO 9001 factory.
Motivated by corporation social responsibility, ATD's goal is to be a total green solutions provider and integrator.
Product Collection:
Solid-sate lighting
1)OEM / ODM LED Luminaire manufacturing
2)Outdoor (LED): streetlight, landscape lighting, area lighting, parking lot lighting, sports lighting (500W).
3)Indoor (LED): low bay / high bay ceiling lighting (up to 200W)
4)Solar LED & Wind powered LED luminaire
Loop Heat Pipe and LED module
Contact
Sale division
E-mail:sale@atdi-web.com
Web Site:www.atdi-web.com