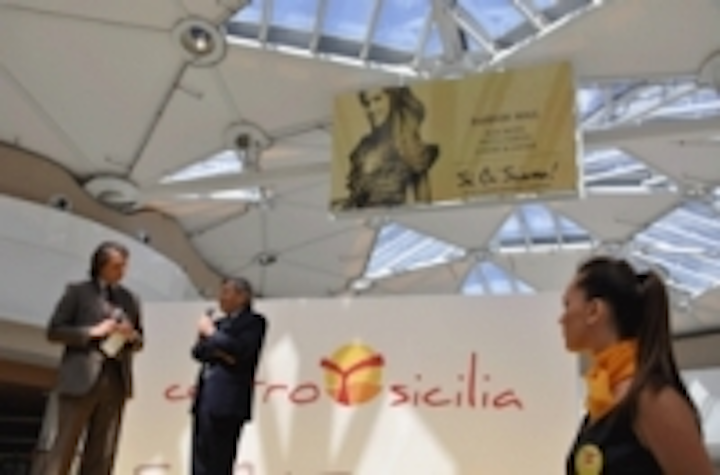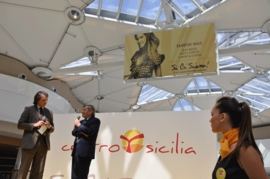 Date Announced: 24 Aug 2011
Italy – Lighthouse LED screens have become an integral part of many retail centres around the world, their superior resolution and image reproduction proving the perfect medium for advertising and entertainment for shoppers. The latest such installation is in Sicily, where a ceiling-hung screen is adding visual flavour to a new retail project.
Centro Sicilia La Tenutella is a 50,000 m2 shopping and dining complex in the Sicilian municipality of Misterbianco. The main contractor, Cualbu Srl, purchased a 7 wide x 5 high panel (4.48m x 2.4m) Lighthouse Pi10 screen for installation in the centre of the mall's food court.
The screen is hung from the mall's ceiling, which features a high proportion of clear panels. Therefore brightness and image definition were of particular importance.
"They were the most important factors for the customer in choosing the Pi10 panels," says Roberto Segato from Lighthouse Italy. "They also chose them because they are extremely cost-effective and their light weight makes them ideal for being flown from the roof."
The screen is controlled via a Lighthouse LIP-HDI, with TV One image scaler and Attachable Brightness Controller, with the content featuring a mixture of advertising and live sports coverage.
"The client is very happy with the screen and was very impressed with the professionalism of Lighthouse staff," says Roberto Segato. "This installation was carried out to a very tight schedule before the grand opening of the mall. The screen was the first part of the project and was delivered on time, with no technical issues.
"The screen made a very big impact during the mall's opening ceremony and has immediately become a central focus of the food court."
~END~
Lighthouse Technologies Limited is a global leader in LED display technology that develops, manufactures, and markets LED video display solutions for multiple indoor & outdoor applications, media and entertainment events, and sports arenas across the globe. With numerous technological breakthroughs to its name, Lighthouse has established itself as a multi award-winning leader in the LED display industry that holds itself to the highest standards of quality.
Founded in 1998 Lighthouse has a strong global presence with regional offices in Europe, North and South America, the Asia Pacific and China. Employing the most advanced technology, the highest quality manufacturing facilities, and world-class, round-the-clock technical support, Lighthouse satisfies customers on every major continent, captivating the imagination of millions. For more information about Lighthouse, please visit
Contact
sarahj@gasolinemedia.com
E-mail:info@lighthouse-tech.com
Web Site:www.lighthouse-tech.com