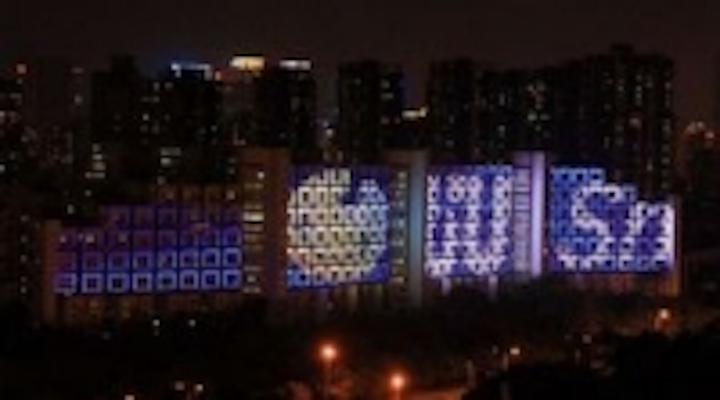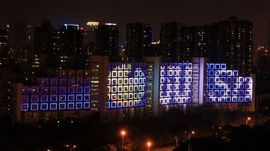 Date Announced: 10 Aug 2011
On 10th August, Clear team visited LED lighting projects it contributes for Universiade 2011 - World University Games 2011. The tour aimed to lead Clear staff to enjoy the elegance of city light art and feel the sense of pride.
In the lighting projects, Clear supplied a series of LED lights including LED linear tube lights, LED spot lights and LED wall washers for a number of buildings and apartments neighbouring the stadiums hosting the Games. Clear team visited the projects of Great Wall Building, Lantian Building and so on.
Mr. Li Menjun, the president of Clear, shared his idea of light art to the staff in the tour. "Every salesman hopes to sell more products. However, the best salesman understands the design idea and recommends lights of appropriate amount and functionality," said Li. "A salesman should be a connoisseur for lighting art before selling products."
Li also indicated that Hongkong ranks top 3 board of "The Most Beautiful City Night Scenes" although it isn't crazy about LED lights. The combination of the city's unique landform, dense skyscrapers and appropriate lights delivers amazing charm to all visitors and citizens in Hongkong. It's a long way to go for Shenzhen.
About Universiade
Universiade, short for World University Games, initially begun in 1959. The 26th Universiade is to be held on August in Shenzhen. To welcome visitors from all over the globe, Shenzhen launched a number of lighting projects.
About Clear
Established in 2000, Shenzhen Clear Illuminating Technology Co., Ltd. focuses the R&D and manufacture of LED lights. With a skilled and energetic team, the company succeeded in various lighting project biddings such as Asian Games 2010, China Grand Theatre and World University Games 2011, as light supplier. For more details, please visit Clear's official web site: www.clearlighting.com.
Contact
Eric Shawn Tel: (86) 755 86114328
E-mail:clear-market001@clearlighting.com
Web Site:www.clearlighting.com