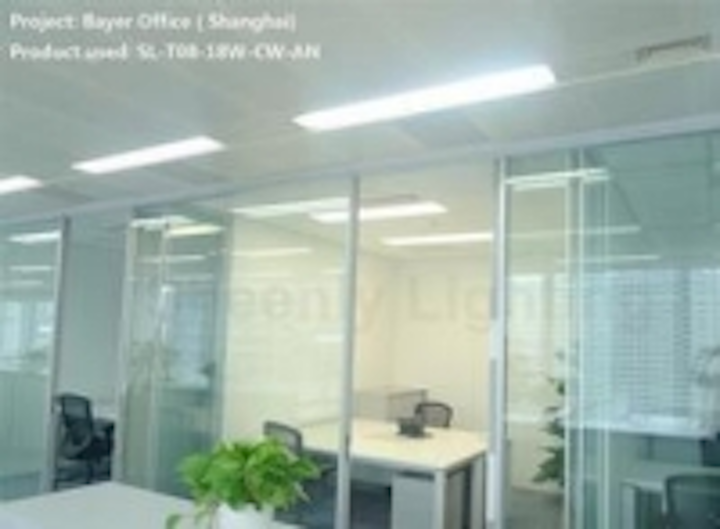 Date Announced: 16 Aug 2011
Sheenly ESP(Electric Shock Protection)Led 1.2m T8 tubes are installed in Bayer's new office in Shanghai. "The light solution is absolutely comfortable for staffs working in the office. The stylish light design suits the modern day office environment" said Bay's office manager, "What's more, the safety is secured when installing with your Led tube's electric shock protection technology."
Indeed the electric shock protection technology makes Sheenly have huge market to replace traditional fluorescent lamps. That's the reason why Sheenly's ESP Led T8 tubes are getting more and more popular with our customers.
Sheenly T8 LED Tube - super bright, high CRI (Color Rendering Index) - is a modern indoor lighting product. Our LED tube adopts high quality LEDs as light source, and unique circuit controlling design, which contributes to high power converting efficiency.
When compared to conventional fluorescent lamps, Sheenly LED tube can save up to 65% energy. Moreover, its average life span is over 50,000 hours.
Features:
*Replace traditional fluorescent 36W
*Save up to 65% electricity compared to traditional lights which means 65% CO2 reduction
*No UV or IR emissions and flicker free
*Conforming to International Standards
*Environmentally friendly – fully recyclable, no mercury or other hazardous materials
*Durable with life span over 50,000 hours
*High CRI 80+ and G13 base.
View more information on our Led T8 tuebs, please visit here http://www.sheenly.com/products/list.php?id=25
Contact
Sheenly Lighting Co., Ltd No.88 Zhuyuan Rd. Minhang District Shanghai 201112 China Tel:+86-21-64113138 Fax:+86-21-64113138-632
E-mail:nancy.wang@sheenly.com
Web Site:www.sheenly.com