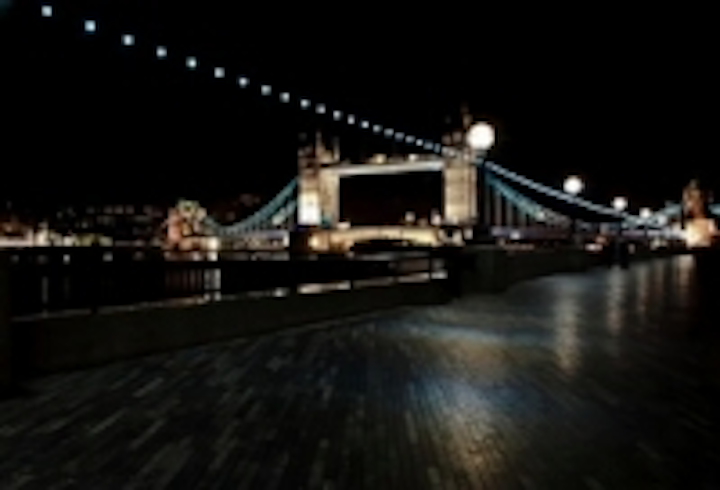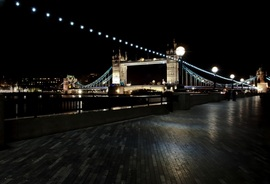 Date Announced: 17 Aug 2011
Over 300 metres of stylish Exhibitor Series festoon lighting has been used at More London. The Exhibitor Series, specialised wet-area festoon lighting system widely used in amusement parks, shopping centres, and promenades, is manufactured by Tokistar and supplied in the UK by the Light Projects Group.
Using the latest 0.48w state-of-the art LEDs enclosed by clear globes 500mm apart, the lighting creates a bright and clear link with the existing large globes at this popular Thames walkway between Hayes Galleria and Tower Bridge.
Tokistar's Exhibitor Series, available in cool white, warm white and RGB LEDs, operate at 24 VAC and consume only 0.48 watts, making them extremely energy-efficient. This means that traditional lengths of run can be increased up to a maximum of 150 metres depending on lamp LED wattage and lamp spacing.
When combined with clear globes, the LEDs replicate the traditional look of incandescent lamps but with more distinct points of light. Consuming a fraction of the wattage of normal light sources, the 40,000 hour lamp life negates the need for expensive frequent replacement and associated maintenance.
The Exhibitor range is available with different frosted or clear globes in clear, green, amber, blue, red and violet colours. Clear globes have excellent distinct point clarity while frosted globes diffuse light over their entire surface. The festoon lighting can be surface mounted using disks or straps or on festoon applications using wire rope adaptors to create long runs. Each LED module can be quickly and easily removed for maintenance when necessary.
Tokistar Lighting Systems are exclusively available in the UK from the Light Projects Group. Light Projects specialises in the design, manufacture and supply of lighting fittings and accessories for an extensive variety of interior and exterior lighting applications. More information is available from Light Projects on 020 7231 8282 or visit www.lightprojects.co.uk
Contact
Gideon Sykes, Pressential LLP Tel: ++ 44 (0) 1342 832211
E-mail:gideon.sykes@pressential.com
Web Site:www.lightprojects.co.uk