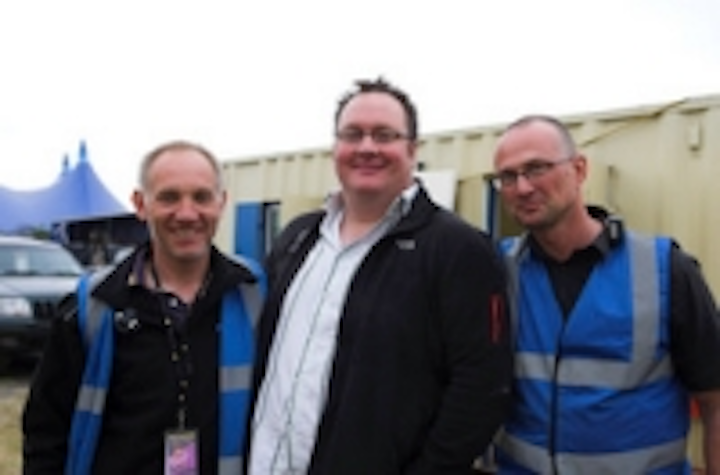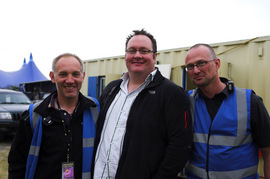 Date Announced: 05 Aug 2011
Leading UK lighting rental company HSL has just taken delivery of 150 square metres of Martin Professional's latest lightweight EC20 20 mm pitch LED screen plus 48 panels of their popular LC2140 40 mm pitch surface in a major investment with the Danish manufacturer that also included substantial quantities of MAC moving lights, in total, worth close to £3 million.
Most of HSL's new screen went straight into action at the 2011 Global Gathering dance festival, staged last weekend at long Marston Airfield, near Stratford on Avon, UK. HSL supplied screen surfaces to the main stage and the Wax:On/Hospitality Arena, together with lighting for the main stage and five tented arenas plus the Terrace, once again working with lighting and video designers, Electric Fly.
HSL's Mike Oates explains that they have invested in the screen to satisfy the increasing demands of lighting designers who often now include scenic and visual design elements like screen surfaces and video into their creations. "I know we've all been talking about 'convergence' for some time," states Oates, "But now the circumstances, the products, the budgets and the workable ideas are really in place for screens to become integrated into any lighting and visuals rig whatever the size. At HSL, we are dedicated to offering clients the very best technology available to achieve their visions and meet their specs".
The Martin LC and EC screen is extremely lightweight, very quick and easy to build and set up, as well as looking spectacular.
An impressive international line up at Global Gathering 2011 - celebrating its 10th year - embraced a lively multiplicity of dance genres, going from main stage headliners Pendulum (Friday) and Tinie Tempah (Saturday) to high-energy performances from Chase & Status, Axwell, Steve Angello, Eric Prydz, Carl Cox, Sasha, Underworld, and many, many more. All were embroiled in an action packed weekend exuding some of the best dance vibes in Europe.
Main Stage
The majority of HSL's new EC20 screen - 175 panels of it in fact - was used on the main stage, all of which was designed around Pendulum's Friday night headline slot. The upstage screen consisted of a 12 metre wide and 5 metre drop surface area of EC20, which looked awesome, specially with Pendulum's highly imaginative, stimulating visuals show which is designed and operated by Immersive.
The left and right side wings of the stage each also featured 3 separate sections of HSL's LC2140, which was attached to the Layher scaffolding system blocks used to scenically frame the stage. Fronted in vinyl material and back lit with individual PAR, the multicolour blocky style wings were an idea conceived by 4AV from Eindhoven, Holland.
For main stage lighting, the HSL 'house' rig comprised of 12 of their new Martin Professional MAC 3Ks (they have purchased 85 in total) on the back truss, and 22 MAC 2K XB Wash fixtures, of which they have also bought 85, positioned over front, mid and side trusses, together with 26 x Atomic strobes and large numbers of 2, 4 and 8-lite blinders which were dotted around. The floor was left completely clean, and a Road Hog Full Boar console was supplied for controlling Pendulum's lightshow, with a Chamsys MQ100 for use as the house desk.
HSL is also supplying Pendulum's ongoing 2011 Festival tour floor package - which was utilised at Global - adding 24 x MAC 2K XBs and 48 x Atomic strobes with colour changers which were upstage of the video screen. The band brought in their touring stage riser, which is fronted with Barco MiTrix surface (supplied by XL Video), and their three 'tree' scenic lighting stands, rigged with 9 of HSL's Robe ROBIN 600 Wash moving heads.
HSL Hospitality
This cosy Arena alternated between Wax:On (Friday) and Hospitality on Saturday, and featured a slick and stylish production lighting design from Philip Winward of Electric Fly, based around a 10 metre diameter arch truss onstage, which was clad with 9 panels of LC2140 screen.
This brought a cool, elegant architectural feel to the space and was complimented with a large circular truss out in the audience, giving lighting positions for both dancefloor and the front of the stage ... where the line up included Danny Byrd, London Elektricity, High Contrast, Andy C and others.
The lighting was 12 Robe ROBIN 600 LEDWash fixtures plus a selection of Robe ColorSpot 2500E ATs and Martin MAC 2K Washes, all operated via an Avo console, with visuals run through a Maxedia media server - one of several supplied by Martin across the site. As in previous years, Avolites also supplied the majority of the house lighting consoles.
HSL All Over
Overall, for Global Gathering 2011, HSL supplied 7 trucks of kit and a total of 240 moving heads, 232 strobes and over 140 blinder units, plus assorted PARs and generics which were deployed throughout the stages and arenas.
It is the fourth year that HSL has supplied a comprehensive set of site-wide lighting and visuals packages for the event, which is organised by AMG (the Angel Music Group).
Again, HSL worked in close collaboration with overall show producers Electric Fly (Nick Jevons and Philip Winward) and their hand picked crew of lighting and visual technicians. The Global 2011 project was managed for HSL by Tim Fawkes and Mike Oates, with Fawkes doing the on-site co-ordination, complete with additional technical input from Ryan Hopkins.
Global Gathering 2011 was another huge success. It was again blessed with good weather and enjoyed by audiences of up to 75,000 over the weekend, making it the UK's biggest dance music festival.
Concludes Tim Fawkes, "It was an ideal opportunity to put all the new screens into action, and we are really pleased with the results and are even more convinced about the investment.
"It is always fabulous to work on Global - the vibes are excellent, there's some great entertainment and we enjoy working with Electric Fly, whose work is always innovative, with a proper emphasis on getting the best possible production values ".
Photo Caption: L- R Nick Jevons (Electric Fly), Mike Oates (HSL), Phil Winward (Electric Fly)
Contact
For more press info on the HSL Group, please contact Louise Stickland on +44 (0)1865 202679/+44 (0)7831 329888 or Email louise@loosplat.com. Contact HSL direct on +44 (0)1254 698808, 'info@hslgroup.com' or check www.hslgroup.com.
E-mail:louise@loosplat.com
Web Site:www.hslgroup.com