Barco launches first 2Kx2K main display with replaceable LED backlights for Air Traffic Control
Mar 11th, 2011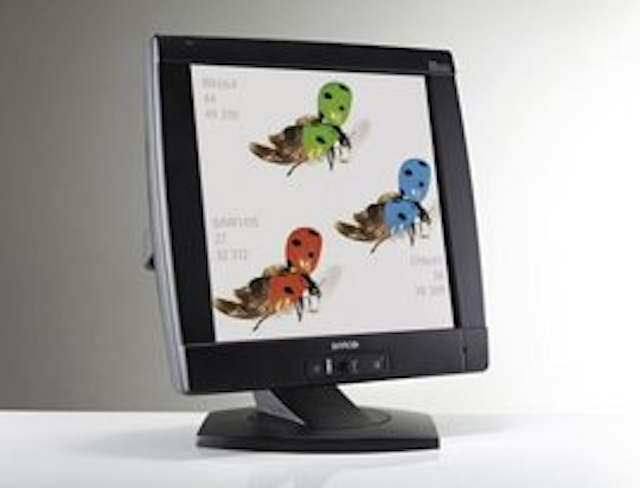 Date Announced: 11 Mar 2011
Kortrijk, Belgium - Visualization specialist Barco is proud to announce its revamped ISIS main display for ATC controller working positions. The 2Kx2K LCD display has been enhanced with replaceable LED backlights, an industry first, reducing energy consumption by 20% while offering a standard stabilized brightness of 240 cd/m². Barco will showcase its LED backlit ATC display at ATC Global 2011, from 8 to 10 March 2011.
Barco is the first in the industry to use energy-efficient and mercury-free LED backlights for its new 2Kx2K ISIS main display for Air Traffic Control (ATC), making it the most sustainable display for ATC controller working positions today. As the display can save up to 20% power without sacrificing brightness or detail, Barco confirms its cornerstone role in providing both durable and highly reliable visualization solutions.
With more than 9,000 displays operational worldwide, Barco's 2Kx2K main display has become the world's leading ATC display. Because of its LED light sources, offering 10 years of continuous operation, the latest model boasts a longer lifetime and reduces waste creation since LEDs require about 50% less maintenance replacements compared to lamps. Combined with the energy efficiency of the LED light sources, Barco's ISIS helps customers significantly reduce environmental footprint without compromises on image quality.
The 4 MegaPixel ISIS display for ATC controller workstation positions produces a light output of 240 cd/m2 stabilized maximum white and remains dimmable to 3 cd/m², resulting in enhanced user comfort in both dark and natural light environments. The display features an open system environment and has been improved with an additional level of redundancy, as it comprises four independent trays with three LED drivers each, providing sufficient critical components to guarantee worry-free operation.
Additionally, Barco offers an upgrade program to its installed customer base, ensuring customers that a Barco investment will last them many years. Barco's LED backlit technology can easily be applied to ISIS displays currently being used in the field, making sure they can be upgraded to a more energy-efficient and durable solution.
Steven Luys, Strategic Marketing Aerospace, adds: "The ISIS display has been developed with a head for the ATC business and with a heart for the environment. The display's low weight, small volume and efficient energy use help control center designers reduce plant and energy costs. That makes our next-generation ATC display highly sustainable and truly future-proof."
Barco at ATC Global, from 8 to 10 March
Barco will be showcasing the improved ISIS display at ATC Global 2011 at the RAI in Amsterdam, from 8 to 10 March, at booth H212 (Hall 11).
About Barco
Barco, a global technology company, designs and develops visualization products for a variety of selected professional markets. Barco has its own facilities for Sales & Marketing, Customer Support, R&D and Manufacturing in Europe, North America and Asia Pacific. Barco (NYSE Euronext Brussels: BAR) is active in more than 90 countries with about 3,500 employees worldwide. Barco posted sales of 897 million euro in 2010.
Contact
Sophie Hautekeete Press & PR EMEA-LATAM Barco n.v. Phone:+32 56 36 80 59
E-mail:sophie.hautekeete@barco.com