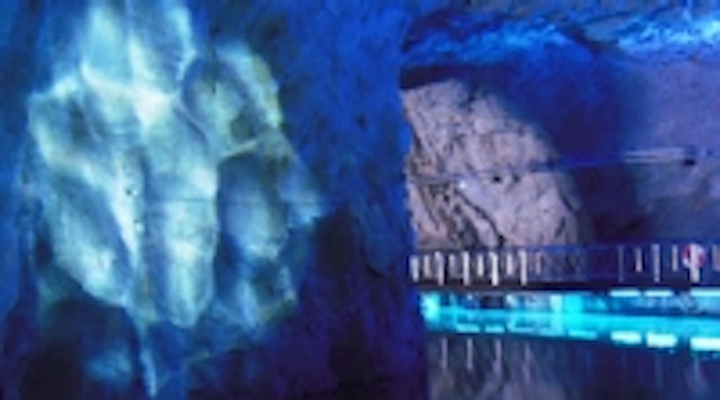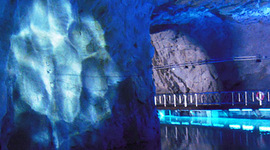 Date Announced: 08 Mar 2011
Thanks to LED lighting colorful performance which can transform the firm and brutal military fort into a soft and intimate cultural memorial site. To achieve this mission, Rooster Lighting Co.(RLC) and Alliance Optotek (AOP) collaborated for the innovative project. The highlighted project Zhaishan Tunnel, a formal military base located in Kinmen Island is successfully interpreted by LED lighting system. This military base from now on is transformed to a cultural site, a scenic spot and a music hall, aimed to attract tourists in participating all memorial events.
For best effect, design team (RLC & AOP) selected three critical elements, the tunnel illumination, great reflection of granite and colorful presentation of water surface. To interpret the scene, firstly AOP AGLAIA-18 Project Lights are utilized to illuminate the tunnel environment with the feature of narrow beam projection emphasizing the reflection effects by granite surface. This design not only illuminates the tunnel environment but also presents visitors with the beauty of natural granite.
Furthermore to build atmospheres of waterway, AOP IP68 HP Linear Lights are adopted under the footpath for washing water surface. This product is equipped with its oval beam providing uniform flood lighting effect. Nevertheless, the astonish visual and acoustic effects cannot be accomplished without DMX compatibility for dynamical color changing control which is the control protocol equipped by AOP's lighting components. With this setup, audiences can immerge themselves into the nature of sound and enjoy the beauty of light to experience the special music hall with LED lights in Zhaishan Tunnel.
Zhaishan Tunnel was built in 1963 is for military purpose, located at the southwest of Kinmen Island, Taiwan. The A-shaped 375m long waterway for war preparedness for transport goods to wharfs. Zhaishan Tunnel was opened to public since 1998 and now becomes a scenic spot in Kinmen Island.
Contact
Alliance Optotek Corp. No.5,Lane191, Chung-Ho St., Chupei City Hsinchu 30267, Taiwan Tel: +886-3-5551100 Fax: +886-3-5555050
E-mail:mkt_lm@aoptk.com
Web Site:www.aoptk.com