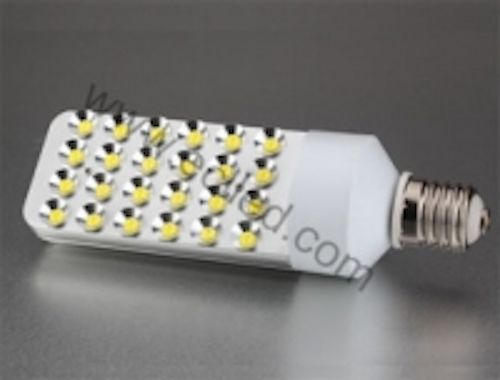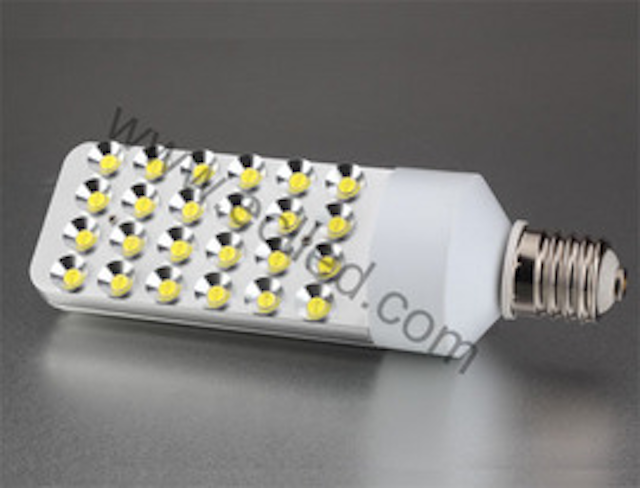 Date Announced: 26 Mar 2011
ECLLED (MingYuan Lighting) introduces its patented product: High Power LED Streetlight Retrofited Bulb. There are 2 power versions available now: 20W and 24W to replace traditional bulb 150W and 200W respectively. It was equipped with MaxCool* High Power LED with aluminum reflector (Bridgelux chip 1W each). The special design of reflector provide perfect angle of 140º for one-side streetlight and also enhance its heat dissipation.
To achieve excellent thermal performance, we use high quality aluminum for whole housing with fins backside, and special hollow design to get Chimney Effect (the higher temperature, the faster air flow).
Bottom 340º degree rotatable and fixed with universal E27 or E40 base and build-in constant current LED driver, allow to replace traditional streetlight bulb directly.
Compare with traditional bulb, LED has following advantages:
1) Much more energy-saving, save 86% energy;
2) Much longer lifespan, about 50000hrs, so save cost of maintenance;
3) Much more environmentally friendly, contain no mercury or toxic and flammable gases; last longer and produce less waste; and they are made from fully recyclable materials;
4) Much more safe, vibration and impact resistant; no UV and reduce IR radiation.
If you have any further enquiry, please do not hesitate to contact us.
*MaxCool LED is designed and packaged by ECLLED, with copper and silver plated base heatsink to minimize junction temperature.
Contact
Andy Chen Zhuhai Mingyuan Lighting Co. Ltd. 5th Floor, 3rd Building Huada Industrial Centre, Zhuhai, Guangdong, China Tel: +86 756 8388686 Fax: +86 756 2894089 Mobile: + 86 139 26 9 68288
E-mail:sales@eclled.com
Web Site:www.eclled.com