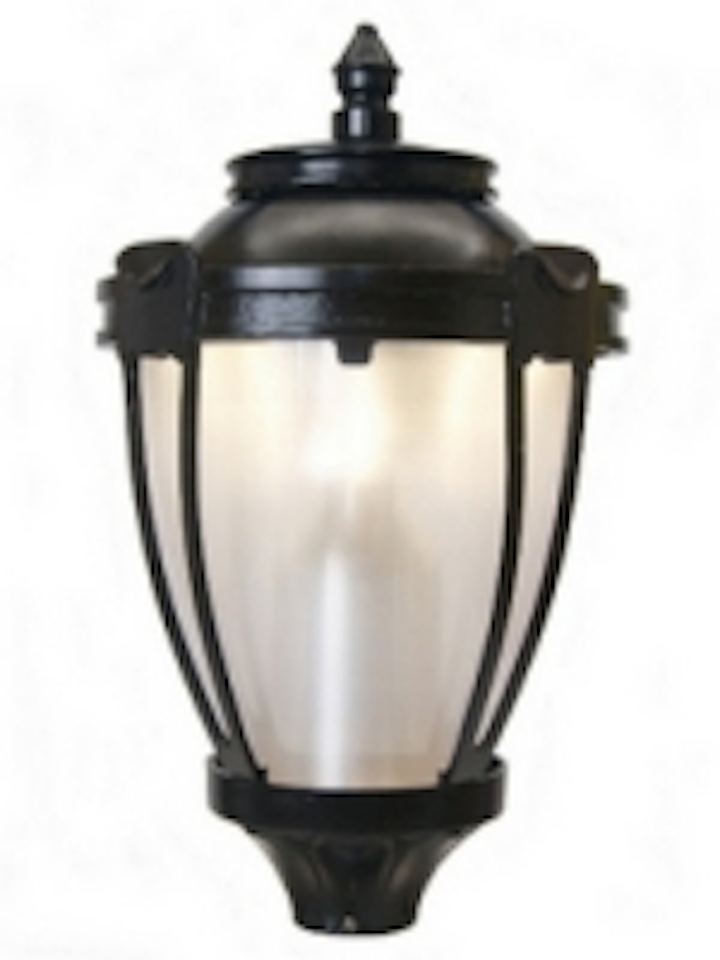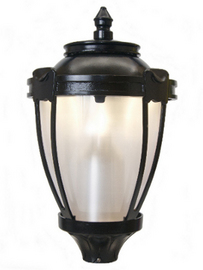 Date Announced: 28 Mar 2011
Freeport, NY – Sentry Electric, one of North America's most experienced and knowledgeable manufacturers of
outdoor LED lighting
luminaires, will be launching several new, innovative LED luminaire solutions at LIGHTFAIR 2011 in Philadelphia, PA. Each of the luminaires incorporates the most current light engine technology in Sentry's time honored, historically-styled luminaire designs, thereby delivering both aesthetic appeal with the benefits of LEDs. Sentry's LED luminaires are perfectly suited for street lighting, area lighting, and architectural applications.
The three principal systems being launched are all part of Sentry's mainstay Tulip family of luminaires. The new designs are:
• ARA System: Individual LED modules, mounted in the top of the luminaire, utilize the contoured ARA reflector to uniformly and symmetrically distribute indirect light.
• Indirect Sloped Reflector: A single high-performance LED module, mounted in the top of the luminaire, projects light onto the internal sloped reflector, and drives out indirect light in a Type IV distribution.
• Directional LED Light Engine System: A single, top mounted, lensed LED array provides both Type V and Type II distribution. This luminaire has been utilized by the University of California at Berkeley in the first phase of a major campus relighting initiative.
Each of the Sentry LED systems will deliver a reduction in energy consumption, maintenance, and down time, which slashes the life-cost of the product and contributes to the end customer's sustainable initiatives. The LED modules are environmentally friendly and RoHS compliant. Systems are available in a range of color temperatures with a minimum of 50,000 hours of high CRI light, flattering to people, objects and structures.
For current installations of Sentry's family of tulip-style luminaires, retrofitting can be accomplished in the field. This helps to contain costs and insures that streets, parks, public spaces and campuses remain illuminated during the retrofit process.
"We are very excited about incorporating the latest in sustainable technology into our family of Tulip luminaires," offers Shepard Kay, President of Sentry Electric. "Our strategy has always been to marry the best in technology with our classic luminaire designs, and provide a true, high performing, low energy consuming, and aesthetically beautiful result. Working with our technology partners, we are able to provide a standard of excellence that is consistent with our customers' expectations."
About Sentry Electric:
Sentry Electric is North America's most responsive source of standard and custom, historically styled, exterior lighting, completely committed to end-to-end project success. The company's specification grade cast iron and aluminum luminaires/lamps, bollards, poles, brackets and accessories are installed across America's prestigious municipal street, park and university settings, including deployments at Yale University, Battery Park City in lower Manhattan, Indianapolis' Lower Canal Park, UCLA and Ellis Island. Lighting designers and engineers, architects and urban planners all rely on the company's commitment to end-to-end project success and its unparalleled knowledge of architecturally significant exterior lighting, honed over the past sixty years.
Sentry's reputation for solid construction, its longevity in business and its custom design capabilities unquestionably made the company the right choice for outdoor luminaires for the recently rebuilt Yankee Stadium. The distinctive, elegant Riverside luminaire with a robust, durable cast iron pole are both standards now at the new "House That Ruth Built." www.SentryLighting.com/ProjectGallery.asp
Sentry has produced award-winning outdoor lighting products, including the exclusive SCP Central Park tulip luminaire, the winner of a Central Park Conservancy design competition. Its rugged, cast aluminum structure meets New York City's vandal resistance specifications. Sentry's catalog includes a range of luminaires in a variety of styles that incorporate many different light sources, including LED, high intensity discharge (HID), compact fluorescent, induction and incandescent, for high efficiency, photometric performance, service life and energy use.
Contact
Michael Shatzkin Sentry Electric (516) 379.4660 x104 info@sentrylighting.com
E-mail:michael@sentrylighting.com
Web Site:www.sentrylighting.com