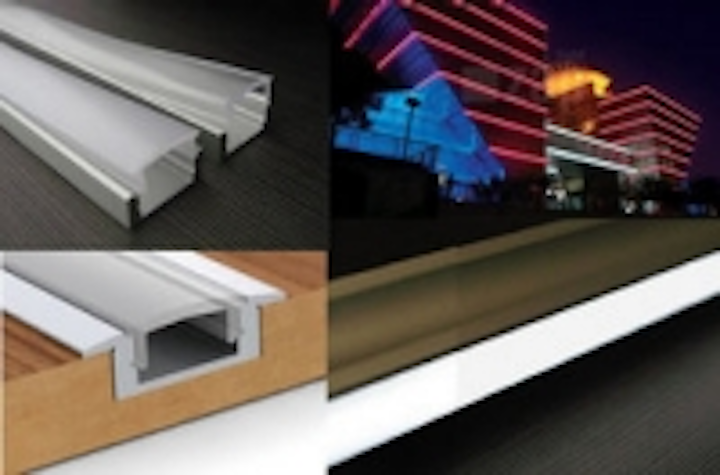 Date Announced: 10 Mar 2011
North Seattle LED Company SolidApollo.com launches new Aluminum LED Lighting extrusion profiles, which will enable Architects, Interior Designers, and retail furniture manufacturers, to increase their lighting design options.
Solid Apollo has just introduced 6 different Aluminum Extrusion profiles, which will enable Architects, lighting designers, and contractors to increase their creativity and flexibility in their designs while creating state of the art LED linear Lighting installations.
One of the biggest problems that lighting designers, contractors and architects have when developing linear lighting solutions is to create clean, bright and functional systems, which should deliver light in a smooth and continuous way.
Basically the only solution until now has been to use LED Light Strips, Neon or LED linear fixtures to create the effect. Nevertheless by using only LED strip, neon or LED Fixtures, installations normally are not clean mainly because of all the cabling involved and it's impossibility to create long distance lighting without having light gaps, shadows, or cabling showing everywhere.
Another big issue with linear LED lighting has been that in order to avoid glares or discomfort, LED products have to be directed or installed away from the view of the public, thus reducing substantially the installation possibilities.
According to Manuel Barquin, CEO of SolidApollo states "The idea is very simple; we provide linear high grade aluminum extrusions where any kind of Linear LED lighting can be installed, for example LED Strip or linear led lighting. The led strip is placed inside the profile, and is covered by a semi clear PVC click on cover. The semi clear click on cover filters the light and creates a seamless linear light output. There are really no limitations to length or brightness levels one can achieve."
There are several competitive advantages on these LED Strip Extrusion Profiles which can accommodate various LED lighting sources, and can be personalized easily to any length.
Some of the profiles from Solid Apollo are quite interesting, as they offer the possibility to be installed in a recessed format, like the Mini 15 and Mini 7 recessed profiles. They offer a clear competitive advantage and they can be installed flushed on floors, walls, drywall, and wood under cabinets or any place where linear lighting is needed.
Another profile from SolidApollo is their "Corner" profile, which is basically a triangular aluminum profile, which is easily placed in any corner where wall and ceiling meet, thus creating a light output in a 45º angle, which is specially interesting for companies who manufacture display casings, or who already has a jewelry or retail business.
The rest of the profiles from Solid Apollo can be installed directly on facades, wall, buildings, outdoor places, restaurants, hotels etc. Many of the profiles offer the possibility to include a clear finish click on covering or a semi frosted finish. Also some of the profiles are specifically designed to be installed in floor, therefore they include high grade PVC covering that can be walked over.
At the same time, Solid Apollo offers a wide selection of LED strips for this application that range from 24W to 72W per unit, as well as many different colors and light temperatures, which enables any customer, to personalize their profile to their exact specifications.
According to Manuel Barquin CEO of SolidApollo.com " We are currently designing a high end LED Light Strip that will be able to work directly at 110V AC, therefore avoiding the necessity to use drivers and signal amplifiers. This product is very interesting as users will be able to install 150 feet of this product with just one connection to any electrical socket. This product is the perfect solution for anybody involved in long run installations".
About SolidApollo.com: Solid Apollo manufactures and distributes a wide range of led lighting products and solutions.
Contact
Manuel Barquin CEO SolidApollo.com
E-mail:info@solidapollo.com
Web Site:www.solidapollo.com