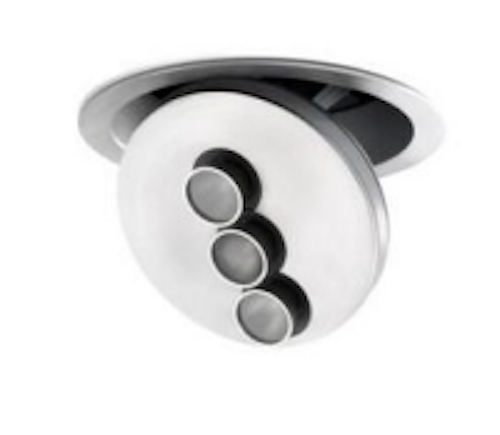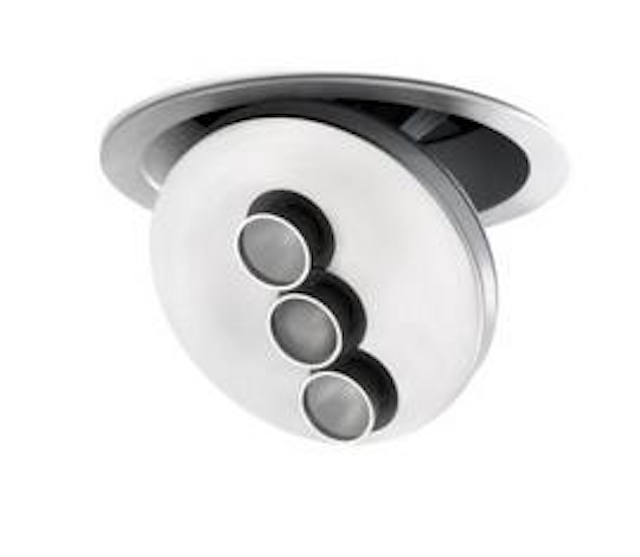 Date Announced: 28 Mar 2011
Pyxis and Corvus are the latest additions to the Roblon Lighting Division's new ranges which use exciting advanced LED technology. The two collections of downlighters are designed for a variety of interior applications from ambient, accent lighting and wall-washing, for ceilings and general room lighting, through to showcase and display case illumination. They are exclusively available in the UK from the Light Projects Group.
The Pyxis downlights are recessed in a fixed position and an adjustable beam angle of 30°, 45° and 60 ° can be obtained by selecting different front reflectors. Suitable for a wide array of applications, they are available with one or three light sources in different wattages and in a range of finishes. The Corvus range is available in a similar choice of styles and finishes but is highly directive, being able to tilt and swivel to facilitate precise focus and direction of light. Its innovative design means it can scoop out all the way to 90° and up to 360° rotation to enable high level illumination.
Pyxis and Corvus feature LEDs with a 35,000 hour lamp life in very high colour rendering for superior white light quality (CRI8 (up to Ra95)). In addition, the unique reflector system is designed to ensure a smooth control of light while eliminating glare and ensuring high efficiency. Both fittings have interchangeable lenses for adjustable light distribution and include individual LED modules which can be replaced independently on site, thereby saving time and money on removal and replacement and causing minimal disruption to the display. As in all the Roblon ranges, full photometrics (IES) files are available for these fixtures.
Roblon Fibre Optics and LEDs are exclusively available in the UK from the Light Projects Group. Further information and technical literature are available on (020 7231 8282) or visit
www.lightprojects.co.uk
.
Contact
Gideon Sykes, Pressential LLP Tel: ++ 44 (0) 1342 832211
E-mail:gideon.sykes@pressential.com