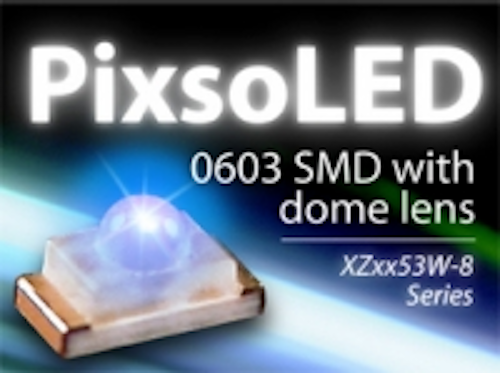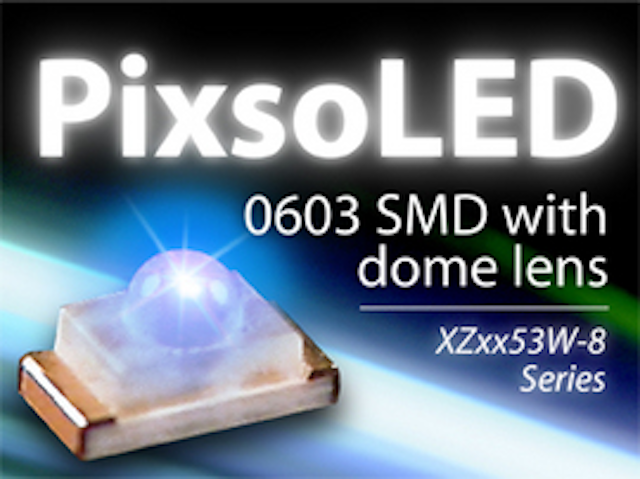 Date Announced: 25 Mar 2011
Great things come in small packages. If you haven't heard that saying before, you better believe it now. SunLED welcomes you to prepare your eyes for a look at our new 0603 SMD with a dome lens. With its 1.6mm x 0.8mm footprint and 0.95mm height, the PixsoLED is a bright source of directed light from a package small enough to lose if you just blink too hard.
Its 60° narrow viewing angle allows for greater intensity output so not only can you stop worrying about light bleed across light pipes, you don't need a brighter die to get the brightness you want out of a standard chip type LED. On limited real estate, the PixsoLED is an excellent choice for those wanting a high-visibility indicator -- where good form follows with greater function. Its pixel-like qualities make it an ideal LED for a wide range of applications such as signs and indoor displays to hand held device indication and membrane switches on appliances. Visit
http://www.sunledusa.com/NewProducts.asp?ID=23&Tab=SPEC
for additional product information and contact a SunLED sales representative to order a sample today.
About SunLED Corporation
SunLED is one of the world's leading manufacturers of optoelectronic products. Since established in 1989, SunLED has grown and propelled to offer an exceptional extensive line of LED Lamps, Surface Mount LEDs, and LED Displays. SunLED produces more than 320 million LEDs every month to support customer's demands.
With SunLED's commitment to provide global exposure in North America, came about the renowned SunLED Corporation of America, based in Los Angeles/CA established in 1995 - Sales, Technical Support, Customer Service & Stocking Facility. SunLED/US branch shares and creates strong core values to drive our robust foundation. Since the beginning, SunLED has always stood for providing quality products, offering most cost effective solutions and providing the utmost excellent customer service.
We are an organization that strives for perfection and making a statement for everyone to remember: "SunLED - Guaranteed to Shine!"
Contact
SunLED Corporation 4010 Valley Blvd. #100 Walnut, CA 91789-0935 TEL: 909-594-6000 FAX: 909-594-6008
E-mail:sales@SunLEDusa.com
Web Site:www.SunLEDusa.com