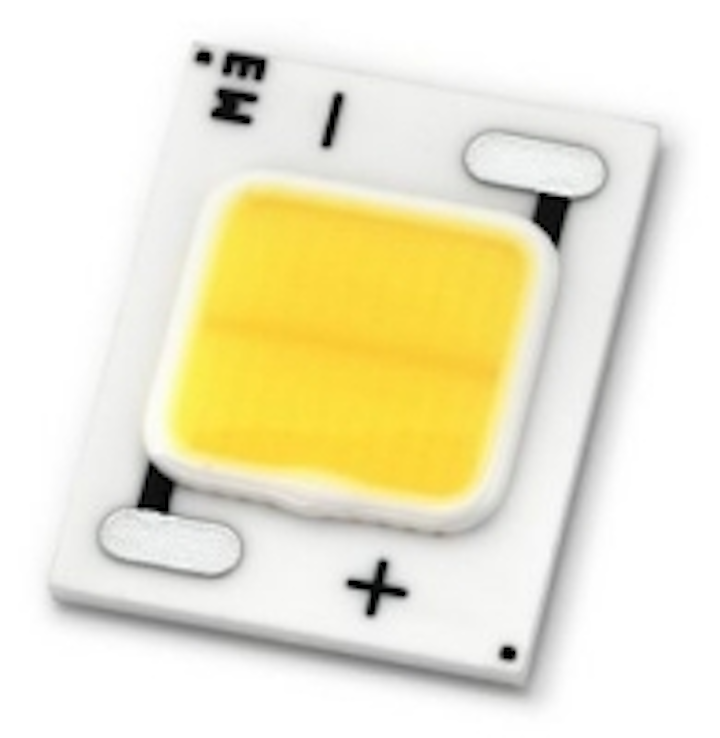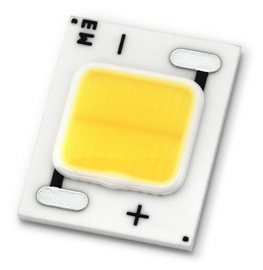 Date Announced: 01 Mar 2011
-- Sharp's new 10W Mini Zeni series radiates with even more efficiency, whilst retaining very good light quality (CRI values of up to 87) and a long service life with its compact and cost-effective design.
Hamburg -– Sharp is again expanding its high power LED module portfolio by adding six 10W Mini Zeni components. They are compact, lightweight, economical and very bright. With a light output of up to 690 lumens, a luminous flux of up to 73 lm/W, a high CRI value of 87 and a long service life of 40,000 operating hours at an operating temperature of 80°C, Sharp is again setting new standards in light technology. Sharp has left the dimensions and the carrier material unaltered. Measuring 15 x 12 x 1.6 millimetres and with an aluminium ceramic plate as carrier material, the 10W variant offers the perfect solution to a whole range of lighting applications.
The 10 W Mini Zeni models have the following features: They are operated using a forward voltage of 19.6 V and a forward current of 480 mA. With the 10 W series, the square LED matrix consists of a total of 60 LEDs that are arranged in ten parallel-switched series of sixes and achieve a luminous flux of between 610 and 690 lm. The serial and parallel array of the LED matrix ensures fail-proof operation while offering the lowest possible thermal emission. The flat surface of the ceramic plate and the soldering points already in place make it possible to attach the modules to a suitable heat sink without too much effort or additional connecting material, thus guaranteeing excellent heat dissipation.
The colour temperature of the new white light LED lighting modules is in the range of 2,700 to 6,500 Kelvin with the shades "Warm White", "Natural White", "Pure White" and "Cold White". All models of the 10W Mini Zeni series have very high CRI values of up to 87 and thus ensure colour fastness and are true to detail. With regard to the CRI values and the colour temperatures, the 10W LED Mini Zeni modules correspond to the requirements of the international Energy Star Programme, which specifies a CRI value of at least 80.
With the introduction of its LED lighting modules, Sharp is providing numerous marketable solutions for the use of LEDs as light sources for lamps. The luminous 10W Mini Zeni LED modules from Sharp are suitable for a range of applications both indoors and outdoors, e.g. spot lighting and for use in LED retrofit lamps, etc.
For a long time it was not possible to replace traditional 50W light sources with an LED module. With the 10W Mini Zeni variant, Sharp is now able to introduce to the market a new alternative as a solution to this problem.
Availability
Sample models are now available from Sharp sales offices and distribution partners across Europe.
Contact
Sharp Microelectronics Europe Service hotline: +49 (0)180 507 35 07 (€0.14/min. from the DTAG landline network)
E-mail:info.sme@sharp.eu
Web Site:www.sharp.eu