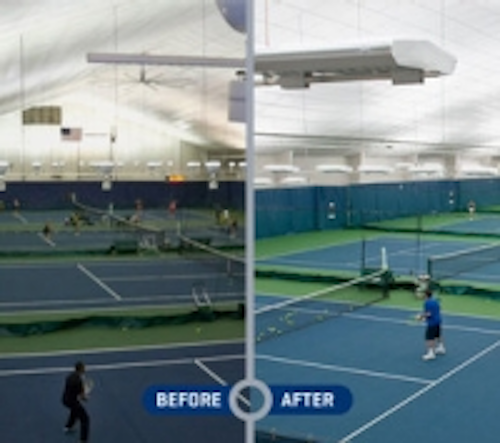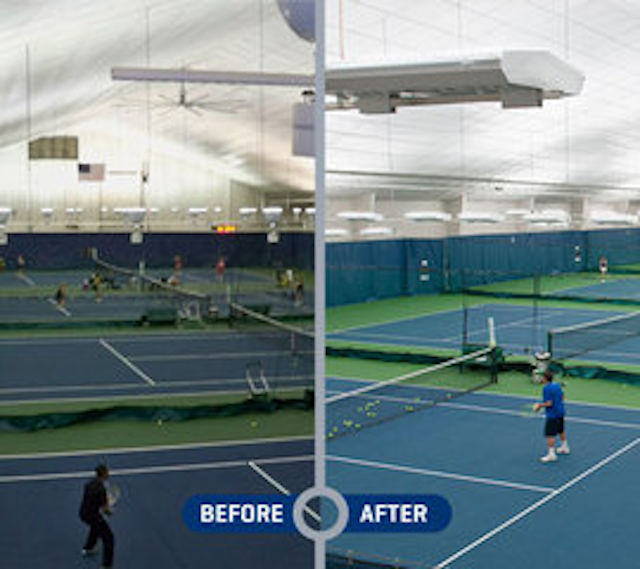 Date Announced: 12 Feb 2013
Yorba Linda, Calif. — Regular players on the four, indoor tennis courts at the Wheaton Sport Center in Wheaton, Ill., can't help but notice how the brighter lights make it easier to see and strike the ball.
What they don't see is the reduction in energy consumption and maintenance costs resulting from the recent lighting retrofit using energy efficient fixtures manufactured by Precision-Paragon [P2] of Yorba Linda, Calif.
The center is a warm, friendly, family owned recreation club on 10 acres about 30 miles west of downtown Chicago. The facility boasts 14 tennis courts including the four inside a permanent tennis facility. In addition to tennis, the center has a full fitness facility, day spa, racquetball courts and two swimming pools.
"Addressing the lighting issues inherent to indoor tennis facilities really requires a focused discipline in the creation of a custom-designed fixture," said Randy Breske, [P2]'s outside sales representative covering the North Central Region. "There is no 'one-size-fits-all' solution."
Peter Rimbos is a national account sales representative for Facility Solutions Group (FSG), the electrical and lighting distribution company that helped with the custom specification of [P2] fixtures to the Wheaton Sport Center. FSG has done a number of lighting projects at the center in recent years including retrofits in the weight lifting and cardio rooms.
Rimbos, a former Wheaton Sport Center member, said the quality and amount of lighting on the indoor tennis courts has always been a problem.
"Our goals were to save energy and to provide them better lighting and we were able to do that with the [P2] fixtures," said Rimbos, who had worked with [P2] in the past.
"P2 seems to be more flexible than other companies in that they will work with you on customizing a fixture or redesigning it so it meets the client's needs."
The existing system of metal halide fixtures was experiencing frequent ballast and lamp failures, which created ongoing maintenance issues for the owners in trying to maintain a constant light level throughout the facility.
The new system not only needed to be consistent and reliable, it had to be energy efficient.
"We are a small, family owned business, so we watch every dollar," said Karla Butler, Wheaton Sport Center sales and marketing director. "But, we're also concerned about our carbon footprint. We really do care about the environment and the efficiency of energy in our club."
The existing, 1,000-watt, metal halide fixtures were replaced with four-foot, T5HO, 10-lamp fixtures. The fixtures were custom engineered to be mounted in an inverted orientation, facing upward and reflecting off the ceiling, so the players weren't looking up into the fixtures.
They also were fitted with custom, slanted wire guards so the tennis balls would roll off and not get stuck. Each row of fixtures is controlled by an occupancy sensor to maximize energy savings by turning off the lights when the courts are not in use.
Installing the 10-lamp, T5HO fixtures with input wattage of about 584 watts resulted in nearly a 50 percent reduction in energy usage compared to the metal halide fixtures, which had an input wattage of about 1,080 watts.
"We reduced energy consumption by about 22 kilowatts, and 180,000 kilowatt hours," Breske said.
Because of the energy savings, the project was awarded more than $13,000 in incentive money by the utility company, Con Edison.
In addition to energy savings, the center will experience some significant operational, maintenance and maintenance material cost savings associated with the new fixtures and new ballasts.
The T5HO lamps are rated for about 40,000 hours with only a 5 percent lumen depreciation during the life of the lamp compared to metal halide, which is rated for 20,000 hours with 30 percent lumen depreciation over the lamp's lifetime.
"Based on [P2]'s research and what we have seen, we expect to recoup our investment in two years," Butler said. "That's a good return for us."
The project, which increased light levels an average of about 32 percent, is good news for the players as well.
Since the lights were replaced one court at a time, Butler said members immediately noticed the drastic difference between the courts that had been completed and those that had not.
"They all wanted to play on the courts with the new lighting," Butler said. "It really is a remarkable improvement in terms of lighting quality."
About Precision-Paragon [P2]:
For over 20 years, [P2] has made high-quality, indoor-and-outdoor light fixtures for a wide range of applications in retail, commercial and industrial spaces. [P2]'s energy-efficient lighting drastically cuts energy consumption, creating big cost savings and significant environmental benefits.
Over the last two decades, [P2] has earned a reputation for going the extra distance in customer support by producing high quality, American-made products. [P2] products are manufactured in Gainesville, Fla., Hudson, Wis., and at the company's headquarters in Yorba Linda, Calif.
Web site: www.p-2.com
Contact
Lou Preston [P2] National Marketing Director 714-386-5550
E-mail:lpreston@p-2.com
Web Site:www.p-2.com