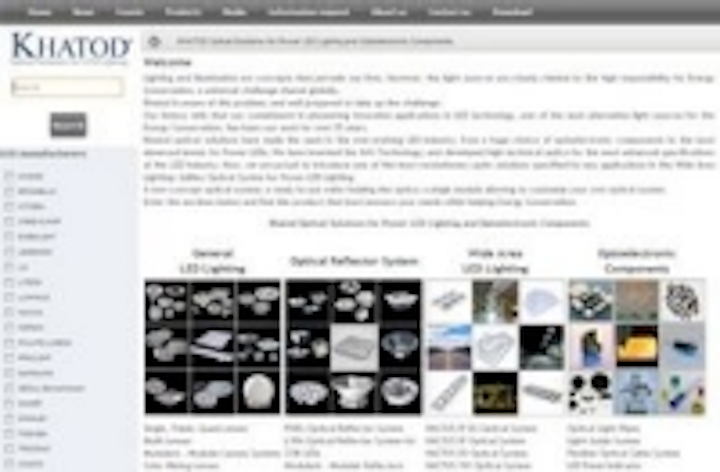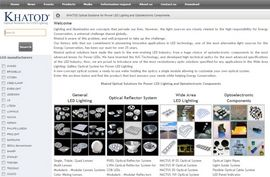 Date Announced: 25 Feb 2013
The new website from Khatod has been redesigned in order to reflect the company organization, the technical support, the variety of optical solutions for LED Lighting, the ability to service. Khatod.com offers user-friendly and simple navigation to content, applications and products, and provides the latest information about new solutions and services in real time.
The site homepage welcomes visitors with a clean uncluttered design and featured content focused on the main lighting application sections: General LED Lighting - Optical Reflector Systems - Wide Area LED Lighting - Optoelectronic Components, each including entire product families for that application area.
The search of the product has been made quicker, simple and dynamic. Searching can be started from the LED source the customer is using by clicking on the LED logo on the left of the website. All the LEDs from that brand and the related Khatod product series will appear on the screen. This makes easier to find and choose the most proper solution, review and download the technical specifications of the products, watch the related videos and read the most updated news.
Search can be carried out also starting from the application, the product, the ranges of products, as well as from a general description or a peculiarity of the product, such as: lenses , optics, reflectors, optical systems, narrow, anti-glare, architectural, street lighting, billboards etc.
A few significant improvements including clear sharp images that encourage the intuitive method, as well as quick navigation , allow the users to promptly find the contents and detailed information on our core services and all the ranges of products available from Khatod.
The upgraded product pages contain information about existing and new products.
"KHATOD's focus is to provide our customers with the latest in LED Lighting Technology, and a good communication is one of the main avenues which allows us to serve them in the best way.", said Giuseppe Vasta, President of Khatod Optoelectronic.
"The new website from Khatod has ambition to be a real helpful tool for business. It not only introduces new developments to the industry and smart expansions to the existing lines, but it also provides with a comprehensive technical support and explicative videos focused on the products with the aim to facilitate the lighting practice of our optical systems."
About Khatod Optoelectronic:
Khatod delivers the widest range of lenses and Optical Systems for HB and COB LEDs of latest generation for any applications in General and Wide Area Lighting, a proven capability to develop custom optics and a huge choice of optoelectronic components. Unique on the international scene, Khatod holds all of its operations in house (Milano, Italy): a full optical service encompassing optical and mechanical designs, mould fabrication, injection moulding, test and inspection. All of the manufacturing processes, from initial design to time to market are 100% carried out and certified in Italy.
Follow us on Twitter @ http://twitter.com/#!/KHATODOPTO and
Facebook @ http://www.facebook.com/pages/Khatod-Optoelectronic-srl/263694230338604
View company video @ http://www.youtube.com/watch?v=G1Opls1D0NU
Contact
Khatod Optoelectronic S.r.l. , Via Monfalcone, 41, 20092 Cinisello B. (Milan), Italy T. +39.02.66013695 F. +39.02.66013500
E-mail:khatod@khatod.com
Web Site:www.kahtod.com