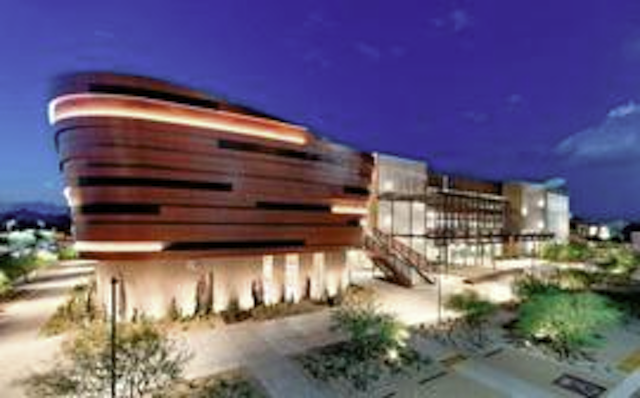 Date Announced: 22 Feb 2013
Montreal, QC and Phoenix, AZ – When students returned to the GateWay Community College in Arizona last fall, they were greeted with the brand-new Integrated Education Building (IEB). Designed by the architecture firm SmithGroupJJR, the modern structure's transparent layers play with natural light during the day. At night, the façade comes alive with animated lines of light that slowly crawl across the IEB's rounded exterior. The effect was created using Lumenpulse's NGL award-winning Lumencove XT luminaire.
"It becomes a billboard, not only as a destination within the campus, but as a landmark of the building towards the community," says SmithGroupJJR's Lighting Design Studio Leader Rodrigo Manriquez. "We used technology to show dynamic movement, to express technology and dynamic learning on the inside of the building." The Lumencove XT fixtures are DMX-controlled to dim, producing a gradual movement. They're programmed to be constant but ever-changing.
"The effect is one of the most unique we've seen," says François-Xavier Souvay, President and CEO of Lumenpulse. "This building is a singularity in the Arizona landscape, and the 'scratches' of light are just mesmerizing. I'm thrilled Lumenpulse was chosen to be a part of this."
The Lumencove XT's IP66 rating was an important consideration when choosing fixtures for this project. The luminaires had to be able to endure Arizona's extreme temperatures and sandstorms. The form factor and embedded driver of the Lumencove XT also swayed SmithGroupJJR to choose Lumenpulse. It made it easier to install on the façade's narrow edge, while also avoiding remote ballasts.
About Lumenpulse Inc.
Founded in 2006, Lumenpulse develops and manufactures high performance, sustainable architectural LED-based fixtures and solutions for commercial, institutional and urban environments. Lumenpulse is a leader in the LED lighting market and has earned many awards for its indoor and outdoor applications, including several Product Innovation Awards (PIA), four Next Generation Luminaires Design awards, a Red Dot Design Award and a Lightfair Innovation Award. It was also recognized as one of Profit Hot 50's Top New Growth Companies. Lumenpulse has offices worldwide with corporate headquarters in Montreal, Canada, US headquarters and Global Technology Development Center in Boston, Massachusetts, and EMEA headquarters in London, UK.
Contact
Olivia Collette 1-877-937-3003, x. 337
E-mail:ocollette@lumenpulse.com
Web Site:www.lumenpulse.com/en/project/48/gateway-community-college