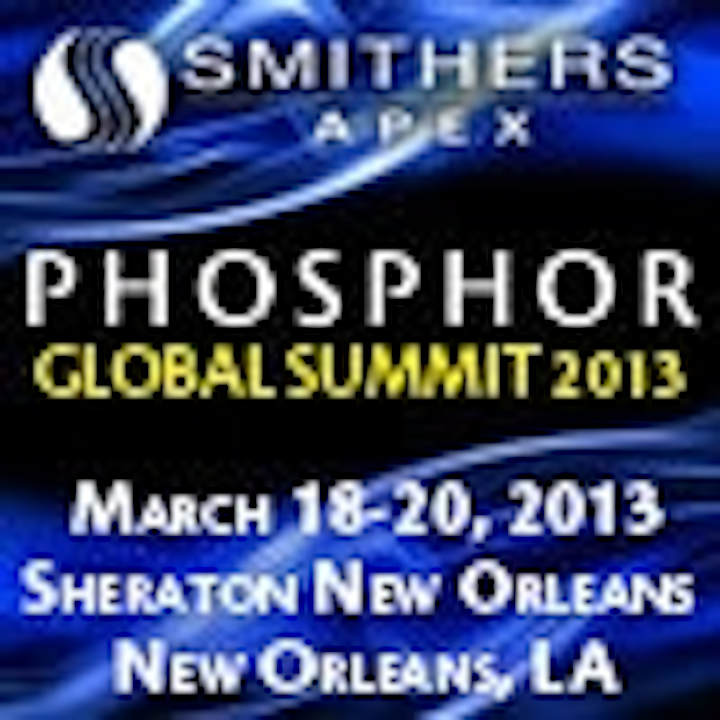 Date Announced: 01 Feb 2013
Toshiba, 3M, Mitsubish, and Hamamatsu Photonics Headline in New Orleans March 18-20, 2013
Portland, Maine – Smithers Apex is proud to announce that Toshiba, 3M Mitsubishi, Dow and Hamamatsu Photonics will be headlining on the Phosphor Global Summit 2013 conference agenda. Now in its 11th year, the only conference dedicated to the phosphor industry worldwide, will take place March 18-20, 2013 at the Sheraton New Orleans, in New Orleans, Louisiana. Attendees will gain the most up-to-date news and developments in the field of phosphors. The program will highlight important topics like rare earths, afterglow phosphors and LED phosphors.
The 2013 agenda is anchored by program advisors, panel moderators and speakers from the biggest names in the phosphor industry, GE Global Research; Toshiba Corporation; Merck KGaA; Philips Lumileds; Dow Electronic Materials, the Chemical Company; QD Vision; Mitsubishi Chemical Group; The 3M Optical Systems; Universal Display Corporation; Rhodia; and Philips Group Innovation. The program also includes speakers from pureVLC Ltd; OSRAM AG; University of Edinburgh; US Department of Energy; Roskill Information Services Ltd; National Institute for Materials Science; Vilnius University; Columbia University; Brown University; University of Utrecht; Korea University; Osram Sylvania; University of Victoria; Ghent University; Siemens AG Corporate Technology; Delft University of Technology; Lawrence Berkeley National Laboratory; and The University of Applied Sciences Münster.
Phosphor Global Summit will have a full day of pre-conference seminars for delegates to get a head start on the latest news and developments by attending Fundamentals of Rare-Earth Spectroscopy; and Scintillators: Fundamentals and Applications (seminars are available at an additional cost). The conference will feature a keynote address on a new development in mobile communication. Professor Dr. Harald Haas, Chair of Mobile Communications, The University of Edinburgh and Co-founder and CTO of pureVLC Ltd will present the opening keynote, "Li-Fi: Broadband Data from Every Light Bulb." Dr. Haas has developed a technology, coined "D-Light", which can transmit data without the usage of radio frequency waves, theoretically replacing the need for a router to access altogether.
"This year, the phosphor industry has had several new groundbreaking findings that are affecting consumer use to a greater degree. This conference will be a hot-spot for industry professionals to breakdown these innovations and collaborate on what will be in store for the future," says conference director Barbara Fowler.
Register by February 1, 2013 to get Early Bird Pricing and save $200 off the conference fee. For more information about Phosphor Global Summit or to register, visit www.phosphorsummit.com. Limited sponsorship and exhibition opportunities are still available.
About Smithers Apex
Smithers Apex, formerly known as IntertechPira, is a global business that provides events, market research, publications and strategic and technical consulting to an expanding list of niche, emerging and high growth industries, including home and personal care; lighting, imaging and displays; plastic electronics and alternative energy. For more information about Smithers Apex, please visit www.smithersapex.com.
Contact
Stephanie Whitman +1 207 781 9616
E-mail:info@smithersapex.com
Web Site:www.phosphorsummit.com