Adlib Lighting adds Vegas razzmatazz to Donny & Marie Tour
Feb 15th, 2013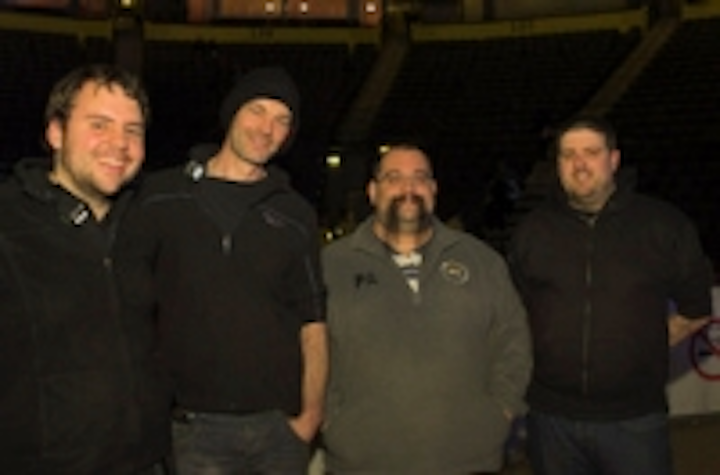 Date Announced: 15 Feb 2013
Liverpool based Adlib Solutions' lighting division, working for London based technical & creative production company LarMac LIVE, supplied lighting equipment, full production rigging, trussing and motors plus crew for the recent Donny & Marie Osmond UK arena tour.
The tour saw the popular duo take their hugely successful long running Vegas show on the road to the delight of UK fans.
Adlib Lighting's Pete Abraham worked closely with the tour's lighting designer Joseph Eddy to replicate his specification, while Andy Rowe crew chiefed it for Adlib on the road, working alongside technicians Michael Summerfield and Chris Neary. Production Rigger James Heath installed approximately 50 points each day depending on the venue.
The lighting rig was based on two U-shaped trusses (rear and mid) and a straight front truss.
The moving lights included Adlib's brand new Martin MAC Vipers, together with MAC Aura LED washes and MAC 2K XB profiles. The company is currently upgrading all its existing stock to include the latest Viper and Aura technology from Martin.
The set was based on the Vegas one with a modified design created by LarMac's Ian Greenway, and the general look of the show was clean and streamlined with some obvious elements of Vegas glitz and spectacle.
The back truss was rigged with 14 of the MAC 2K XBs and seven MAC Vipers, there were another 20 x 2K XBs on the mid truss together with four Vipers, and on the front truss, eight 2K XBs and four Vipers.
The floor was kept clear, with ten 2K XB units and one Viper, which together with two of the XBs was behind the central staircase and utilised for silhouetting people when this was used as a stage entrance. There were also eight MAC Auras across a raised catwalk at the back of the stage.
Eight Philips Color Kinetics ColorBlaze battens were positioned behind frosted Perspex panels illuminating the set elements immediately below the catwalk.
Two Lycian 1.2K Starklight followspots were mounted on the rear truss, joined by two Robert Juliat 2.5Ks used at FOH.
Adlib also supplied a number of set practical's including Chauvet Colorado LED strips to back light the staircases, together with LED lighting, floor cans and power drops for three quick change areas backstage. They also designed DMX data distribution for the Co2 jet system that accompanied Donny & Marie's production team from the US.
For control Eddy specified a grandMA2 lite console. Completing the lighting package was a wireless comms system and a 60ft wide LED starcloth, masking off the back of the stage.
One of the biggest daily technical challenges was the tight schedule in which to get a large and detailed rig into place, a process that went extremely smoothly. Andy Rowe comments, "There was a great vibe on the tour, and we and Donny & Marie's production crew immediately clicked, so after a couple of days it felt like we'd known each other and worked together for years!"
Donny & Marie are the latest in a number of high profile US based artists for which Adlib has supplied lighting production.
Adlib Crew photo shows (left to right) : Chris Neary , Andrew Rowe, Peter Abraham (Director Adlib Lighting) and Mike Summerfield
Contact
Louise Stickland +44 (0)1865 202679 +44 (0)7831 329888
E-mail:louise@loosplat.com
Web Site:www.adlibsolutions.co.uk