Aleph MATRIX LED 20mm Pitch Pixel Panel makes debut
Feb 12th, 2013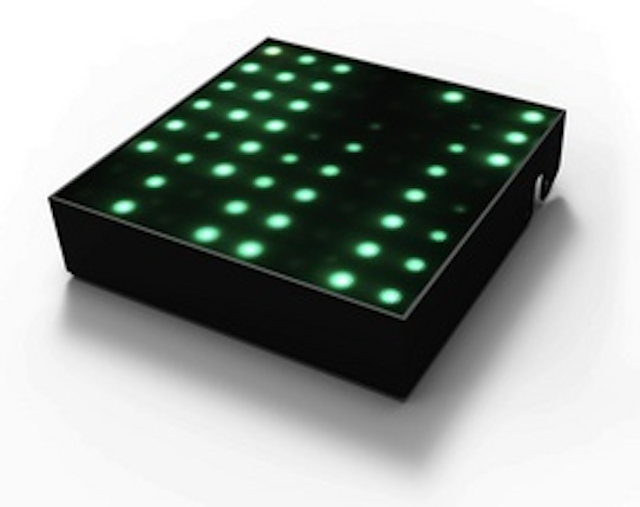 Date Announced: 12 Feb 2013
Melbourne – One of ENTTEC's newest products creates a real "wow" factor: the Aleph MATRIX LED 20mm (3/4 in.) Pitch Pixel Panel. The Aleph MATRIX, with 64 RGB pixels per tile, is designed for indoor applications.
It can be connected together in any shape to create standard rectangular walls or any configuration with up to 50 tiles at 110V or 100 tiles at 220V. The tile dimensions are L160 x H160 x W40mm or (8" x 8" x 2").
Using a dedicated USB interface and CAT5 link, the driver software will accept any Art-Net input source from all major pixel mappers, including MADRIX.
See the Aleph MATRIX in action: http://www.youtube.com/watch?v=t_wqcei0GeU&feature=plcp
and
http://www.youtube.com/watch?v=GOOHYSvJ2ok&feature=plcp
Its portability and flexibility with link in-out data connections makes set up quick and easy.
The Aleph MATRIX has a lightweight design (535g or 1.2 lbs), uses low power consumption (25W), and is cost-effective. It has superior light output, high color definition, and different diffusers available. The LED panel requires low maintenance because it is fanless.
The Aleph MATRIX is ideal for both wall mounting or free-standing mounting options in shops, offices, restaurants, night clubs, or shopping centers.
Read more about the Aleph MATRIX's features here: http://www.enttec.com/newsletter/2012/12_20/Aleph_Matrix_brochure.pdf
About ENTTEC Pty Ltd and ENTTEC Americas, LLC
ENTTEC Pty Ltd of Melbourne, Australia designs and manufactures innovative lighting control systems for entertainment and other specialty applications. While budget friendly, ENTTEC is committed to delivering quality lighting products and a high level of support and service to loyal customers all over the world. Their range of nearly 100 products includes the popular DMX USB PRO, groundbreaking RDM tools, DMXIS (a 2009 Rock Our World Award winner), and professional lighting control software, D-PRO 1.3. At LDI 2012 the DMX USB Pro Mk2 won Best Debuting Product in the Widget Category. In 2009 ENTTEC introduced Aleph Lighting (www.alephlighting.com), a creative line of LED lighting solutions. ENTTEC Americas, LLC, based in Hillsborough, N.C., imports and distributes all ENTTEC products to the North American market.
Contact
For more information, go to www.enttec.com or contact Jeremy Kumin, general manager of ENTTEC Americas, LLC, at jkumin@enttec.com or 888-454-5922 (U.S. voice and fax).
E-mail:peggyswisher@gmail.com
Web Site:www.enttec.com