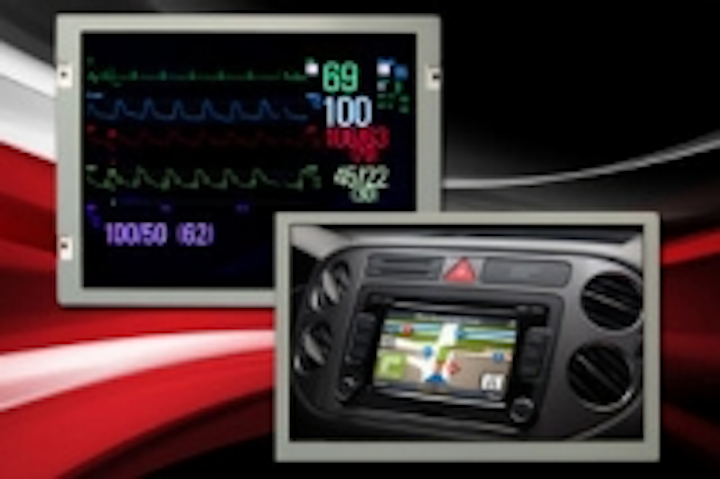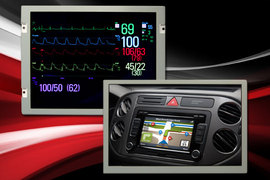 Date Announced: 11 Feb 2013
Plymouth, MI - Kyocera Display America has announced three new TFT-LCDs that will be added to its extensive TFT-LCD product line. The three new products are a 7.0" WVGA and two 8.4" SVGA TFT-LCD displays. All displays feature Super Wide Viewing (SWV) technology and two of them are super high brightness for sunlight readable outdoor applications.
Super Wide Viewing technology delivers true color and the best optical performance. It enables people to view images with vivid color (no grey inversion) from any angle.
Designed with the latest high-efficiency, long lifetime LED backlight, the LCD panels achieve brightness levels as high as 1200 nits (cd/m2), and provide an ideal solution for medical, automotive and any outdoor applications requiring sunlight readability.
The LED driver circuit is integrated into the LCD module, with full dimming function, so no additional components are required to drive the backlight. The backlight itself is specially designed to provide lower power consumption by using the latest technology for LED chips and light guides. The new TFT-LCDs are designed with standard LVDS interface, and offer a wide operating temperature range of -30º to 85º C.
T-55785GD070J-LW-ABN T-55786GD084J-LW-AAN T-55786GD084J-LW-ACN
Size 7.0" 8.4" 8.4"
Resolution 800 x 480 800x 600 800 x 600
Brightness 1000nits 600nits 1200nits
Viewing Angle (U/D/L/R) 85/85/85/85 85/85/85/85 85/85/85/85
Contrast Ratio 500:1 500:1 500:1
Interface LVDS LVDS LVDS
Operating temp -30 ~ 80 C -30~ 80 C -30~80 C
LED driver Built-in Built-in Built-in
Production April 2013 April 2013 April 2013
Sample Now Now Now
Kyocera offers long term product availability, which distinguishes the company as a preferred and reliable supplier for industrial, automotive and medical customers.
Kyocera Display Corporation, the leading LCD manufacturer in Japan, is actively engaged in the development of environmentally friendly products and continually strives to reduce the use of environmentally degrading materials and processes in its manufacturing. The company complies with the RoHS directive.
About KYOCERA
Kyocera Corporation (NYSE:KYO)(TOKYO:6971) (http://global.kyocera.com/), the parent and global headquarters of the Kyocera Group, was founded in 1959 as a producer of fine ceramics (also known as "advanced ceramics"). By combining these engineered materials with metals and plastics, and integrating them with other technologies, Kyocera has become a leading supplier of industrial ceramics, solar power generating systems, telecommunications equipment, printers, copiers, electronic components, semiconductor packages, and cutting tools. During the year ended March 31, 2011, the company's net sales totaled 1.27 trillion yen (approx. USD 15.3 billion). The company is ranked #604 on Forbes magazine's 2011 "Global 2000" listing of the world's largest publicly traded companies.
Contact
For more information, please contact Kyocera Display America (KYDA), Inc. 46723 Five Mile Road. Plymouth, MI, USA 48170. Tel: 734-416-8500; Fax: 734-416-8520
E-mail:jhe@kyocera-display.us.com
Web Site:www.kyocera-display.com