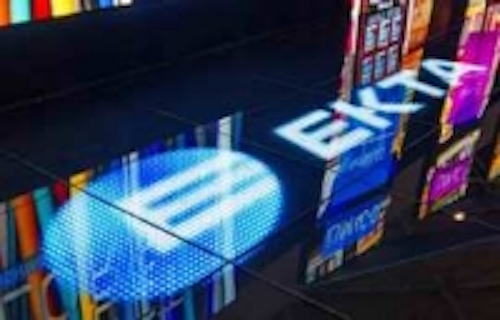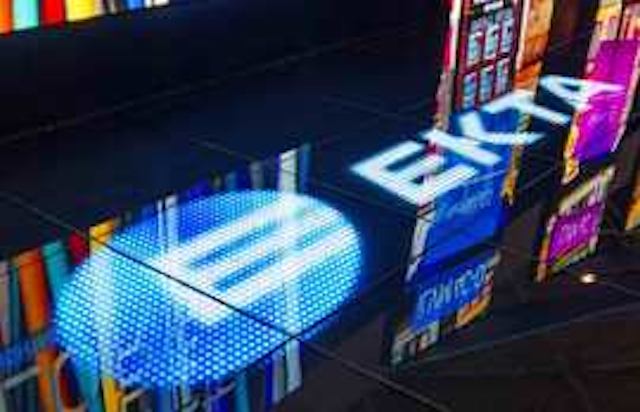 Date Announced: 15 Feb 2013
When it comes to entertainment, the flexibility and versatility of LED technology knows no bounds according to one of Europe's leading LED display manufacturers, EKTA, which has increased production of its brand new interactive LED WOWfloor in response to growing demand.
Designed and manufactured in Ukraine, EKTA's next generation LED video WOWfloor, LVF 24C, features a real pixel pitch of 24mm and a special coating that enables infinite visual effects to be displayed.
The WOWfloor's unique interactivity is achieved thanks to the use of in-built light detectors and infrared sensors. These identify objects moving on the surface, allowing them to influence the imagery displayed on the floor and creating a completely unique experience.
The graphics are co-ordinated by one of EKTA's powerful and cutting-edge data controllers, including the brand new ERMACPlus/SPU­006, first showcased at ISE last month. The system's three-level architecture has revolutionised video processing technology for large-scale LED displays and visualisation equipment, including EKTA's WOWfloor range. One unit can control multiple products, in particular the iLVM 1.9C-E 580" video screen, which has a real pixel pitch of 1.9 mm.
Having proven popular in the Ukrainian market, EKTA has seen significant interest in its new WOWfloor from customers in other parts of Europe, including TV studios, video production companies, casinos, bars and shopping malls. Further afield, the WOWfloor has been installed in one of India's largest nightclubs.
The floor is assembled from square LED modules of 0.773 m, each weighing 32 kg. Each module is shockproof triplex laminate with a gloss black surface and is IP55 rated, making it ideal for both indoor and outdoor applications.
Commenting on the growing popularity of EKTA's interactive LED WOWfloor, Oleg Bogomolov, EKTA's General Manager Sales, said:
"EKTA continues to develop LED display technology with a particular focus on small pixel pitch that will improve the visual experience whilst not being limited to screens. Our LED interactive video floor takes audience engagement to a new level, bringing a new dimension to entertainment flexibility and aesthetics, supported by EKTA's state-of-the-art digital control systems."
EKTA will be exhibiting its new WOWFloor LVF 24C at the forthcoming Prolight + Sound Exhibition in Frankfurt during April 2013.
Contact
Oleg Bogomolov - General Manager Sales
E-mail:office@ekta-led.com
Web Site:www.ekta-led.com