Verde Designs introduces its new VeraCOM an all in one smart panel.
Feb 7th, 2013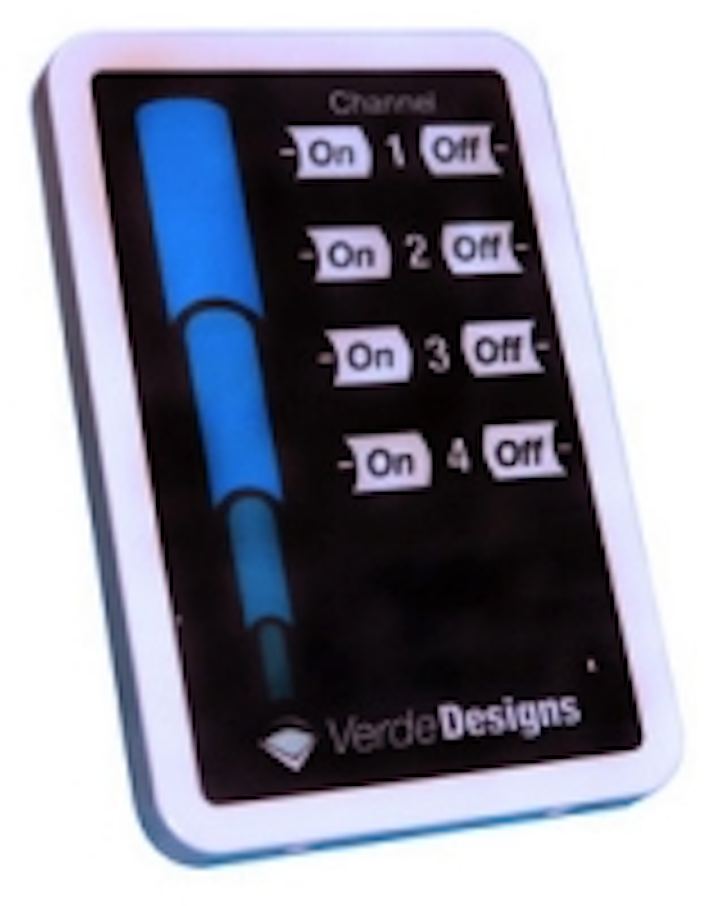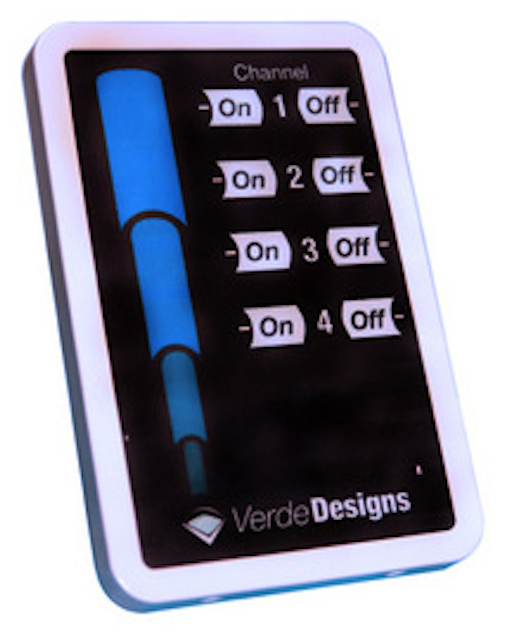 Date Announced: 07 Feb 2013
Verde Designs™ new VeraCOM smart panel is the first all-in-one control panel that supports multiple dimming methodologies for both traditional and LED light sources. The VeraCOM smart panel includes dual DMX512 master channels (universe), two 0-10V outputs and two isolated inputs & isolated outputs. In addition, a Wi-Fi 802.11 and an 802.15 wireless radio allow either or both to be used for slave or master wireless control.
The VeraCOM smart panel hosts capacitive touch linear sliders and buttons with visual indicators to accommodate custom user input/commands. A simple photographic paper overlay allows for customization of the graphical user interface which can be simply custom labeled and logoed with both words and graphics.
The VeraCOM smart panel comes packaged in a sleek, low profile plastic case that can be simply mounted to a wall using a standard electrical box. All wiring is hosted in the rear cavity using standard screw terminal blocks for quick and easy installation. The VeraCOM smart panel is powered from an external 12-24VDC source, which can either be derived from the system under control or from a small AC-DC power supply that fits into the electrical box. The standard plastic housing is 6" tall, 4" wide, and 0.50" thick, allowing for complete coverage of wall imperfections surrounding the electrical box, with a low profile look.
An USB interface to Windows-based applications allows for simple configuration with mobile apps and an open API planned for the future. Custom programming and configurations are available from the factory with fast turnaround.
Over the last five years Verde Designs has been at the forefront of lighting technology offering both standard and custom solid state lighting components: including intelligent software controlled LED drivers, capacitive touch controls, and LED array modules.
For further information please visit our webpage at www.verde-designs.com or please contact Joe Raffino at 480-256-0014 or email us at sales@verde-designs.com
Contact
Verde Designs Joe Raffino (480) 256-0014
E-mail:sales@verde-designs.com
Web Site:www.verde-designs.com