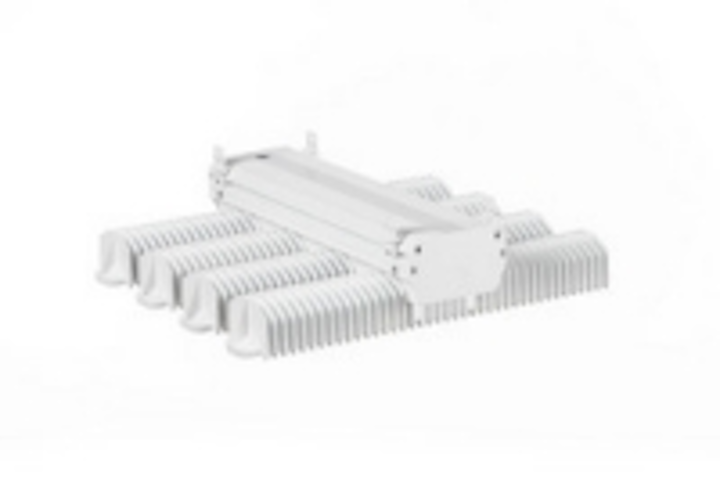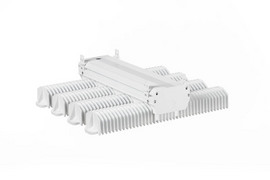 Date Announced: 08 May 2013
ABHX-Series is an ideal lighting solution for warehouses, storage areas and other spaces with high ceilings
EAST CLEVELAND, Ohio – April 24, 2013 – (NYSE:GE) – Offering an energy-efficient lighting solution for warehouses, industrial spaces and other commercial settings with high ceilings, GE's new Albeo™ ABHX-Series LED High Bay Lighting fixture provides bright, long-lasting light with cost-saving advantages.
GE's Albeo LED high bay lighting meets a growing demand. The Energy Information Association indicates more than 10 billion square feet of warehouse space exists in the United States.
The ABHX-Series LED lighting fixture, a product of GE Lighting's recent acquisition of Albeo Technologies, can replace a range of legacy high bay lighting systems—250-watt to 1500-watt high-intensity discharge (HID) and four- to eight-lamp T5/T8 high-intensity fluorescent lighting, which burn out after 20,000-30,000 hours, creating a total failure of the lighting mechanism.
Because LEDs dim over time, lifetimes are based on the number of hours the fixtures produce at least 70 percent of the initial light output, referred to as L70. The Albeo ABHX-Series' life is rated for 100,000 hours at L70, significantly diminishing maintenance needs in areas that are difficult to reach and where swapping bulbs often requires special equipment and trained personnel.
"LED high bay fixtures provide a sensible lighting solution for industrial buildings and warehouses because of their tremendous light quality and cost savings," said Jeff Bisberg, CEO of Albeo Technologies, a GE Lighting business. "Through the ABHX-Series, we have demonstrated our commitment to offering the very best LED high bay products that will save business owners maintenance and energy costs while fulfilling their unique lighting needs."
Yielding even greater energy efficiency, the ABHX-Series has improved electronics and offers more lumens from fewer modules compared to the original H-Series, which was the first one-for-one LED replacement for 1000-watt metal-halide systems. Additionally, it offers precise illumination, which is often needed to locate materials and pack boxes in storage and warehouse settings, and can be matched with motion, daylight and wireless controls for even greater energy savings.
The Albeo ABHX-Series recently was recognized in the 2013 Next Generation Luminaires™ Solid-State Lighting Design Competition. Sponsored by the U.S. Department of Energy, the Illuminating Engineering Society of North America and the International Association of Lighting Designers, the awards recognize excellence in energy-efficient LED commercial lighting unit design. The ABHX-Series also recently earned a 2013 Architectural SSL Magazine Product Innovation Award, which showcases cutting-edge LED and solid-state luminaires and fixtures.
The original H-Series fixture, a recipient of the 2012 Next Generation Luminaires Best in Class High Bay Award for the indoor category, recently was installed in the freezer warehouse and loading docks of a Price Chopper store in Rotterdam, N.Y., one of a chain of 128 grocery stores in six states throughout the Northeast. The installation helped Price Chopper achieve its goals of improving the quality and quantity of light, saving money on energy costs and achieving central control of all lighting systems while reducing environmental impact. The store is expected to experience nearly $64,000 in annual savings in total lighting costs.
Proving it can be used in other areas with high ceilings, the Albeo ABHX-Series LED high bay fixture also proved to be a viable solution for the Dee Events Center, home of Weber State University men's and women's basketball teams. Replacing HID lighting commonly found in sports arenas, the ABHX-Series uses 70 percent less energy and is expected to save the university about $40,000 in annual energy costs.
About GE Lighting
GE Lighting invents with the vigor of its founder Thomas Edison to develop energy-efficient solutions that change the way people light their world in commercial, industrial, municipal and residential settings. The business employs about 15,000 people in more than 100 countries, and sells products under the Reveal® and Energy Smart® consumer brands, and Evolve™, GTx™, Immersion™, Infusion™, Lumination™, Albeo™ and Tetra® commercial brands, all trademarks of GE. General Electric (NYSE: GE) works on things that matter to build a world that works better. For more information, visit www.gelighting.com.
50 Years of LED Innovation
Oct. 9, 1962, GE scientist Dr. Nick Holonyak, Jr., invented the first practical visible-spectrum light-emitting diode (LED). In the 50 years since, GE has been on the forefront of LED innovation. The company has released inspired LED products for both residential and commercial settings, from the first ENERGY STAR®-qualified A19-shaped LED bulb to LED street lighting that illuminates cityscapes the world over.
Contact

Web Site:www.gelighting.com